LynnMarie Rink
Grammy Nominated Artist / Story-teller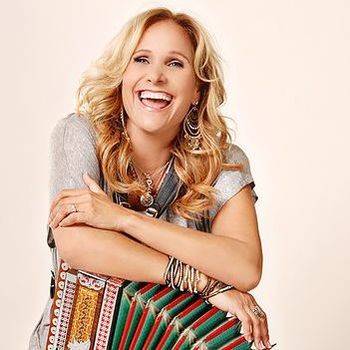 LynnMarie Rink Bio
LynnMarie is a five-time Grammy nominated performing artist who has been wowing audiences with her unique style of music, played on a rare instrument called a diatonic button accordion. She has garnered worldwide attention, as well as an appearance on The Tonight Show with Jay Leno and collaborated with some of the music industry's most respected artists like Chet Atkins and Vince Gill.
But just when things were going well, even the happiest music there is - polka - couldn't ease her pain and she was forced to face her biggest fear. The arrival of her son, James, born with Down syndrome and autism, would be the catalyst that would send LynnMarie into a deep depression, unable to cope with the daunting task of being a special needs parent. She put down the accordion and as she puts it, "tried to run as far away from my life as possible." She sat in her robe for weeks on end. She thought her career was over. She wanted her life to be over. She contemplated suicide, all the time.
She eventually found her way into therapy and began the slow journey of self-discovery. "I started to realize who I was; the daughter of an alcoholic, a co-dependent woman and someone who didn't know her own inner voice." Through a series of random encounters, which can only be described as miraculous, LynnMarie began healing and learning to love herself, which eventually enabled her to love and accept her son, James. "Everyone gets something in life; financial hardship, cancer, divorce - but I've learned that acceptance is the key to be able to keep moving."
This is the message she now shares from the stage. With the use of her accordion, LynnMarie takes the audience on an unforgettable journey from depression to joy.
When she is not performing on stage in front of the cameras, she is working behind the scenes as a television associate director and producer. "I work in television to support my music habit," laughs LynnMarie, but she has made quite a name for herself. Producing and assistant directing such high profile shows as The Academy of Country Music Awards Red Carpet for GAC, Live music shows from The Super Bowl for CMT, and a variety of shows for the Dick Clark Company, her day job provides just as much excitement and intrigue as her music career.
That leaves her spare time, which she recently spent by writing and starring in her own off-Broadway production of her life story, Wrap Your Heart Around It. She was awarded "Best New Production" by the United Solo Theatre Festival in NYC. A run at the prestigious Falcon Theatre in Burbank garnered rave reviews from the LA Times; "What makes 'Wrap' so effective is how effortlessly Rink connects with us, (her) unforced warmth and affecting candor amounts to a one-woman love bomb!"
Her memoir will be released in the spring of 2016 on Post Hill Press. She lives in Nashville, Tennessee, with her husband of twenty-nine years, Jim, and their eight-year-old son, James.