Premiere Exclusive
Andy Andrews
New York Times Best-Selling Author, and Modern Day Will Rogers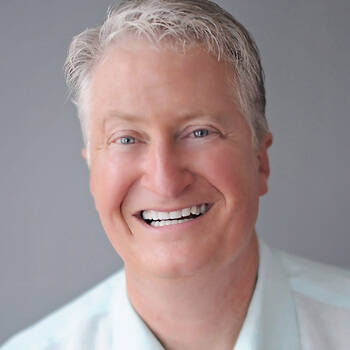 Andy Andrews Bio
What could this one man possibly have to say that is important enough for the Commander of the Allied Air Forces to ask his help? Why did every senior leader the United States Air Force has in Europe and the Middle East recently assemble in one room--at one time--to listen?
Who is this man who walked the golf course with Hall of Famer Nancy Lopez as she played her last tournament as a touring professional? Why was he invited to spend an afternoon with General Norman Schwarzkopf and his son? What was he asked to discuss with ninety-one-year-old Bob Hope, alone by the swimming pool in the entertainer's backyard?
Hailed by a New York Times writer as a "modern day Will Rogers who has quietly become one of the most influential people in America," Andy Andrews is an internationally-known speaker and novelist whose combined works have sold millions of copies worldwide. He has been received at the White House and has spoken at the request of four different United States Presidents.
Andrews' bestseller, The Traveler's Gift: Seven Decisions that Determine Personal Success (Thomas Nelson Publishers, November 2002), is an international sensation, remaining on the New York Times bestseller list for 17 weeks and being translated into nearly 20 languages. As featured on ABC's Good Morning America as a book of the month selection, The Traveler's Gift is a stunning story of one man's search for meaning and success in life by traveling back into time and conversing with seven historic individuals. Its message of hope, faith, and perseverance is transforming thousands of lives worldwide every day, spurring a teen version, The Young Traveler's Gift (Transit, April 2003), a journal, The Traveler's Gift Journal (J. Countryman, June 2003), a home study audio program, Timeless Wisdom from the Traveler (Lightning Crown Publishing, March 2003), and life-study curriculums in high schools, mental health organizations and prisons nationwide.
Andrews lived a relatively normal life until the age of 19. It was then that both his parents died--his mother from cancer, his father in an automobile accident. "I took a bad situation and made it much worse," Andrews says with a rueful smile referring to choices he made during this tragic period of his life. Within a span of several years, the young man found himself literally homeless, sleeping occasionally under a pier on the gulf coast or in someone's garage.
It was at that time Andrews asked a profound question that would alter his own life, and ultimately affect millions of people: "Is life just a lottery ticket or are there choices one can make to direct his future?" To find the answer, he first went to the library. There, over time, he read more than two hundred biographies of great men and women. "How did they become the people they were?" he wondered. "Were they simply born this way? Or were there decisions made at critical junctures in their lives that led to success?" The young man finally determined there were seven characteristics each person had in common. "What will happen," he mused, "if I study these seven common denominators and harness them in my own life?"
The rest is history. The "Seven Decisions," as he calls them, were the engines used to carry Andrews' life in a different direction. And twenty-plus years later, these same Seven Decisions became the outline around which he built the story of The Traveler's Gift.
Andrews newest book, The Lost Choice--A Legend of Personal Discovery (Thomas Nelson Publishers, June 2004) elegantly blends riveting fiction, extensive research, and a powerful message of hope. The novel's plot takes the reader from modern day Denver, Colorado to the Sinai Peninsula sixteen centuries ago. The Lost Choice is the story of two couples and their gripping quest to uncover mankind's destiny. Along the way, they discover a key to understanding the extraordinary achievements of esteemed men and women throughout time. Debbie Elliott, of National Public Radio, says, "The Lost Choice is a masterpiece of ideas and emotions--a magnificent and bold achievement that should be read by everyone."
Driven by his own personal moving story, Andy Andrews communicates to his audience through the heart--an uncommon style in today's media driven world. Arguably, there is no single person on the planet better at weaving subtle, yet life-changing lessons into riveting tales of adventure and intrigue--both on paper and on stage.
Andrews lives in Orange Beach, Alabama with his wife Polly and their two sons.