Surprise! We're Making A Movie!
February 11, 2022
Founder of Auntie Anne's Pretzels
The first weekend we opened our market stand in a sleepy farmers market in Downingtown, Pennsylvania, I was a ball of nerves. But, of course, it wasn't just pretzels that we sold in the very early days. In fact, the pretzels were terrible until we tweaked the recipe and discovered what is now an Auntie Anne's pretzel.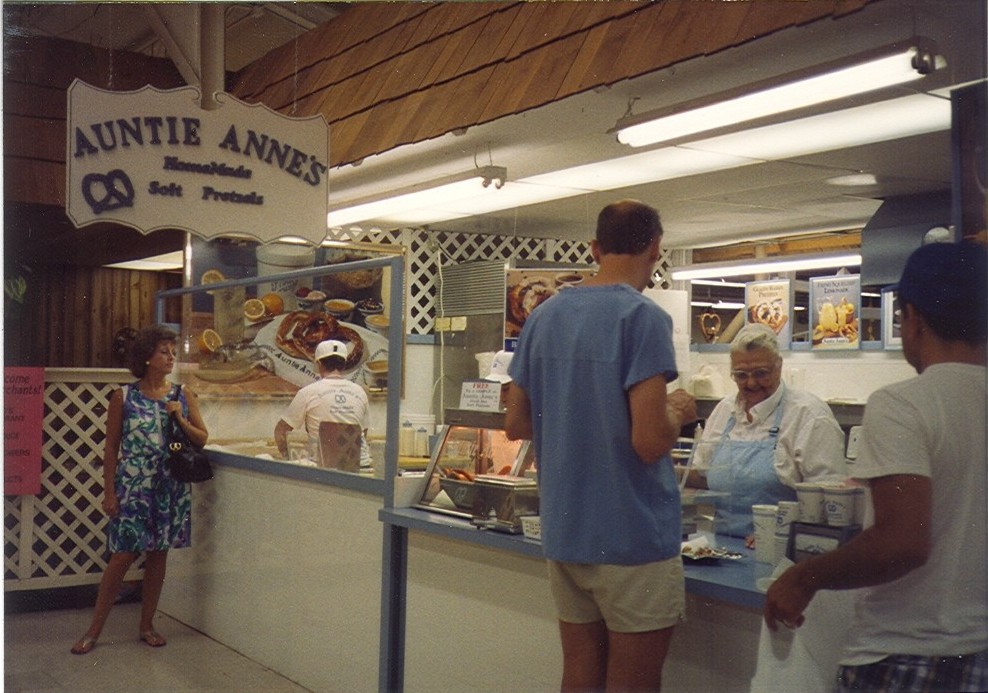 That was 33 years ago, as of February 5, 2022. But in many ways, it feels like yesterday. I remember the thirty-minute drive from our home to the stand. I remember the sounds and smells of the market. I remember family members pitching in to do whatever we needed help doing.
I remember how awful the pretzels tasted and how I was ready to give up on them. (Another story for another day.)
I remember a delivery man carrying a bouquet and how I thought it was so special someone was getting those flowers. And then I remember how surprised I was when he handed them to me. My husband Jonas sent them to me. The note read, "Hon, you can do this." He's such a good man!
I didn't dream about success in the ways I ended up experiencing it because these early moments were a success for me.
I certainly never thought that someday, we would make a movie sharing the story of our lives. And here we are, 33 years later, and I get to share that exact news – our story will be a movie!
What Most People Don't Know
Most people see the success of Auntie Anne's but don't know the story that got us there. Back when we started the company, we had just gone through some of the most challenging and devastating years in our life. We were rebuilding and starting over after so much loss and pain as a family.
We lost our nineteen-month-old daughter tragically, and when I finally decided to seek help because I couldn't cope, my pastor took advantage of me physically. It was a secret I thought I'd never tell.
The secret nearly took my life. My pastor sexually abused me for seven years, and he even convinced our family and others to follow him to Texas to plant another church. We had no idea what web of lies and deceit we lived in during that time. The events that followed the death of our little girl were tragic and traumatic.
As my little Angie made her ascent into heaven, I made a long and slow descent into a world of pain that I never knew existed.
I Didn't Keep It A Secret
This may go without saying, but eventually, I confessed everything to my husband, and little by little, we started to put our broken family back together. Of course, we weren't entirely healed as that took many more years, but shortly after this time, Auntie Anne's started. It was a true miracle wrapped in the most profound redemption story I'm humbled to have lived.
Through the company's success, I now have a platform to share this story. God first gave me a pretzel, then gave me a platform.
Since selling the company, I've been on a mission to share this story with as many people as possible and encourage others, particularly women, to share their stories as well. I believe in the healing power of confessing one-to-another because I broke my silence about my past and started to find freedom for my future. (I even developed a small group curriculum to help women overcome the past pain, blame, and shame.)
Worst Day Best Day
As part of what I do today, I get asked to be on podcasts or do media interviews, and I try to say yes to as many as my schedule allows. Back in 2020, I had a lot of free time because of canceled live events, so I did many interviews, one of which was on the podcast Worst Day Best Day with Jason Brown.
I never know if a particular podcast episode will go far and wide or if it will lead to anything more, but in this specific case, Jason, the host, reached back out after reading The Secret Lies Within and was interested in exploring a movie together. He and his production partner thought the story would be powerful and impact many lives. So we signed with their production company, Called Higher Studios, shortly after.
Julia Roberts and George Cloney
Well into the success of Auntie Anne's, Jonas and I would often dream about a movie about our lives. I can't say with certainty if we ever actually believed it would happen, but we would dream nonetheless. When we asked each other who we wanted to play our characters, I always said Julia Roberts, and he always said, George Clooney. (And yes, I told our production team, although I don't think they took me seriously. )
Maybe you were wondering who is starring in the movie, or when it might come out, or even what parts of our story will be featured, and right now, all I can say is we don't know yet. But, we created a Movie Insiders Club to let you know of any movie updates and developments along the way. It will be a behind-the-scenes look as we turn our story into a movie. If you sign up, I'll also send you a 20% discount code to use in our bookshop so that you can read the books that landed the movie deal. (I'd start with this book.)
You can sign up for the insiders club here on my website.
My Story For God's Glory
I often say while speaking, "I share my story for God's glory." I believe the movie will be no different. I hope for the story that ends up being told in this film to inspire and encourage you in your journey.
Whether you're an Amish kid with an eight-grade education turned entrepreneur like me, a woman in the depths of despair and depression, a husband feeling the pressure to hold a family together through crisis, or a child that feels abandoned and alone. No matter who you are or what you've experienced, there is always more for you. Our story is proof.
Join Us On This Journey
Like I mentioned earlier, our Movie Insiders Club is where all the details will be shared first, as we learn them ourselves. You'll get to watch the movie-making unfold from (almost) day one. Click here and sign up today. Don't forget that I'll send you a 20% discount code for our bookshop after you sign up.
Thank you all for the support over the years and for letting us share our story so that others can find freedom and healing in their journey. I'm grateful to all of you.
The post Surprise! We're Making A Movie! appeared first on Auntie Anne Beiler.
Want Auntie Anne Beiler for your next event?
Find out more information, including fees and availability.
Find Out More
Keep Reading