A Letter To My Sweet Angie on her 48th Birthday
January 28, 2022
Founder of Auntie Anne's Pretzels
To my dear Angie,
My blue-eyed, blond-haired sweet baby girl. I miss you so much!
You may be surprised to be receiving a letter from me after all this time has passed. I've talked about you and written about your life and how it has impacted Dad and me, but I've never written to you. So I guess an apology would be in order.
You weren't with us very long, but the short life you lived gave us a lifetime of memories that changed us so deeply we can't imagine what life would've been like had you stayed with us.
Today is your birthday. Happy birthday my sweet Angie.
The calendar we use here on planet earth is marked by days, weeks, months, and years. You would be 48 years old. If you were here, I'd make you a birthday cake with 48 candles on it. We only celebrated one birthday with you, and many have passed since then. Sigh. It's been so long!
It isn't easy to imagine what life would be like if you never left us. I thought we would spend a lifetime together.
I wish I could tell you how much I've changed. I am not the same momma I was when you were here. Back then, I knew nothing about pain and grief. I knew nothing about sadness and sorrow.
I knew nothing about what it was like to lose my little girl, but that all changed in a split second when you left planet earth and entered Heaven to live with Jesus.
You were so young at only 19 months and 12 days old. We were not ready to say goodbye. The sadness and longing to hold you and have you with us never left me.
There were so many tears! Buckets of tears, really. You were the joy of our family.
You had a place in your Daddy's heart that no one up to that time was able to penetrate. You brought him so much joy after a few years of deep sadness when he had lost his brother Sonny.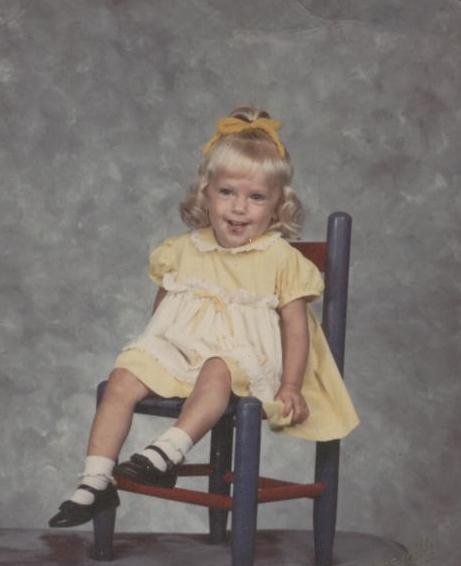 Though it was only a short time here, your life has left an eternal imprint on our souls.
Sometimes I think you're the lucky one in our family. You got to go to Heaven way before it was your time, and there's not a day goes by that I don't think of Heaven and wish I could be there with you.
I think of you and imagine what it's like for you to be in Heaven without your family. I wonder if you can see us as we go about our daily lives. Do you know what we've gone through as a family?
Did you know Daddy and I fell apart so badly when you died that we almost lost each other, our family, and even our faith?
Do you know that you have a beautiful sister born 11 months after you went to Heaven? My mama's heart was broken, and I wanted to hold a baby again. Less than a year after you were gone, I was holding your sister. We named her Joy LaVale. She was pure joy. We were so happy to have your sister come live with us.
Did you ask Jesus to give us a baby girl? I always imagined you talking with Him and asking for a favor.
You should know that it's because of your Daddy's love we are still a family today. We decided to lose you was more loss than we could bear, and so he was determined to keep our family together when it seemed like there was nothing left to hold on to.
Your Daddy loves God and loves his family, and we recently celebrated 53 years of marriage.
It's hard to imagine that we were only beginning our family life when you went to Heaven. We were very young, and now we are considered an older couple. One thing I know for sure is that we are closer to seeing you now than we've ever been. The thought fills my heart with joy!
Your Dad said recently when thinking of you, "I used to miss you and wish you were here, but now I miss you and wish I was there."
Here I am 47 years later, and I've learned to live one day at a time, which has served me well. It feels like a lifetime ago since I've held you, fed you, and cared for you when you were sick, and yet the day you left is crystal clear in my mind.
No one has ever replaced the space in my heart that I have for you. You still occupy the Angie space, and you continue to fill my heart with love cause I know you're very much alive in Heaven.
I read about what Heaven is like but have a hard time believing there is such a perfect place where there is perfect peace. A place where there is no pain, stress, trouble, care, tears, accidents, or loss of any kind. The city of God where He is the light, and there is no more night. Does that mean no more bedtime stories?
A few months after you moved to Heaven, I dreamed about you.I was worried about who was taking care of you because I knew you were too little to care for yourself.
In the dream, which I clearly remember, you told me not to cry because when you died, two big beautiful angels carried you into Heaven.
You said that you are playing with all the boys and girls, picking flowers, and sitting on Jesus's lap.
What you said in the dream comforted me so much because I knew that someone was caring for you.
You were always busy when you lived with us and loved going up to grandma's house. You loved grandma, grandpa, sissy, and Aunt Fi. I imagine you're spending a lot of time with Grandpa and Grandma now that they're in Heaven too.
I wonder what you do all day, every day.
I wonder what you look like and if you're all grown up now.
I wonder if you think of your family every day and if you're anxious for us to come to be with you.
I wonder if you've made good friends and what you do together with them.
I have so many questions!
Sometimes I sit and talk with you and imagine you hear me. I wish there were day trips we could take to come to see you every once in a while.
I love my family here and want to be with them but the longing to be with you is ever-present.
Thinking about the time when I will finally get to see you, hold you, hug you and never have to say goodbye again - the thought of it takes my breath away.
Love you, Angie – all the way to Heaven and back.
I'll see you soon,
Mommy
The post A Letter To My Sweet Angie on her 48th Birthday appeared first on Auntie Anne Beiler.
Want Auntie Anne Beiler for your next event?
Find out more information, including fees and availability.
Find Out More
Keep Reading