William Shepherd
NASA Astronaut, One-Time Manager in the Space Station Program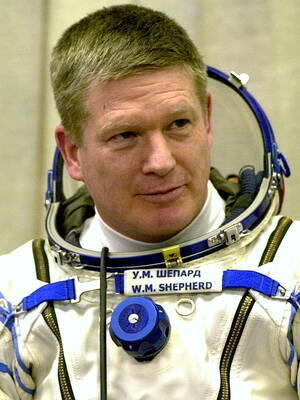 William Shepherd Bio
William Shepherd has had a diverse career as a Navy SEAL, NASA Astronaut, NASA Program Manager, and Science Advisor to the Nation's Special Operations Forces. Capt. Shepherd graduated with engineering degrees from the U.S. Naval Academy and MIT, He started his career as a Navy "frogman" and SEAL, operating in the Pacific, Atlantic, and European theaters. He was selected by NASA in 1984 as its first military "non-aviator" Astronaut. He flew 3 Space Shuttle missions as a Mission Specialist/Flight Engineer, carrying civilian and DOD payloads to space. In 1993, Capt. Shepherd was appointed Program Manager for the new International Space Station, a 16 nation partnership to build a large "gateway" to space. In 2000, Capt. Shepherd commanded the "First Expedition" to the new orbital "outpost". The International Space Station is now a 500 ton research complex, which has been home "away from Earth" for 37 Expeditions and hundreds of space explorers.
Capt. Shepherd recently completed a 3 year assignment as the Science Advisor to U.S. Special Operations Command, where he oversaw the nation's Special Operations Forces' technology portfolio. Capt. Shepherd is in private industry, focusing on research and development activities in aerospace, defense, and "high tech" sectors. Capt. Shepherd has received many prestigious awards, including the Spirit of St. Louis Medal, the Gagarin Gold Medal, the Robert H. Goddard Trophy, and the Congressional Space Medal of Honor.
Capt Shepherd has extensive experience forming and leading quick response, rapid development activities. He believes in small teams--and that "innovation" is best found energizing the "human capital" inside an organization. He enjoys speaking about teamwork, technology, education, the different cultures he has seen around the world, and the experiences he has lived in aviation, space, and special operations.