The Painful Back Checking Advantage
September 09, 2015
New York Times Bestselling Author, Olympian, and Hall of Fame Speaker, Activate Purpose + Accelerate Growth
A recent Wall Street Journal article affirms, Parents, let it happen instead of coaching your kids from the stands. Yeah. Makes sense. But, don't be so sure with my Senior Citizen mom. Press the point and she'd probably mutter, "Well get off the ice if you're not going to hustle."
Back-checking in hockey is a term primarily for forwards chasing down opponents on their offensive rush. Much like Horse-to-Barn, players find extra energy with the puck, while the opposition's net is the barn. Your legs pump harder. Motivation increases. But without the puck, fear of being scored on increases while the muscles don't get any motivational message.
It's a paradoxical phenomenon. Salespeople agree... "The fear of loss is a greater motivator than the opportunity to gain." Example? Black Friday shoppers line up at midnight to ensure they don't miss out on a limited inventory's great deal. Put a sign out that says, "Sale" and you may get a few curious shoppers. Meh… Put a sign that says "Sale. Today Only" and interest spikes. Giddy up.
Flip the scenario for hockey forwards. The second you sense a chance to score a goal, adrenaline spikes. (The opportunity to gain.) But, the second you lose the puck to the opposing team, it's a collective, "Oh crap. Now I have to chase a smelly guy around the ice to prevent him from scoring." (The fear of loss.)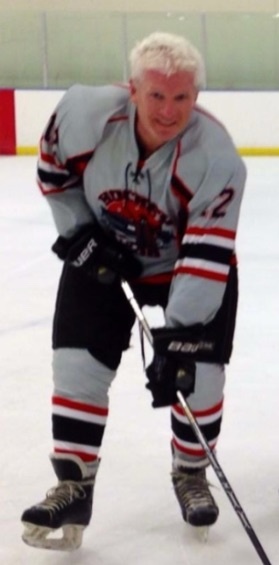 ---
This is where Mom's voice kicks in. Each winter, Mom bugs-out of Edmonton to warmer Dallas climes. God knows she has seen enough youth-hockey games in the sixties and seventies. But, she gets a kick out of coming to her 53-year-old son's hockey contests. Trust me on this one, being a back-checking forward in your 50's is NOT enticing. But, the sound of her familiar voice yelling out, "Hustle back Vince. Hustle!" is enough to reach down and get after the play. Amazingly, back-check hard enough and you'll catch your opponents off guard a little – sometimes, a lot. Case in point: Playing hockey in Australia.
Thirty plus years ago, a chance to play a few weeks of hockey popped up in Sydney. Within seconds of starting the first game, it became clear both teams had an unwritten rule. "Mate, if you're good enough to take the puck away from us, then you can skate down ice and take on our defensemen and goalie. I'll get there in a tick."
Cue Mom's voice (despite being 8,258 miles away), "Hustle Vince. Hustle!" All neglected to point out their unwritten rule. I'd skate back, lift the stick of the unsuspecting offensive rusher and take the puck. Eleven players, teammates and opponents alike, seemed shocked to suddenly flip directions. We won every match during that stretch of games.
Finding an advantage in the business of life starts with what the competition is not willing to do.
Who's cheering you to back-check?
Thanks Mom!
---
Source: Vince Poscente
Want Vince Poscente for your next event?
Find out more information, including fees and availability.
Find Out More
Keep Reading