American Idol Finalist Offers Hope at The University of South Florida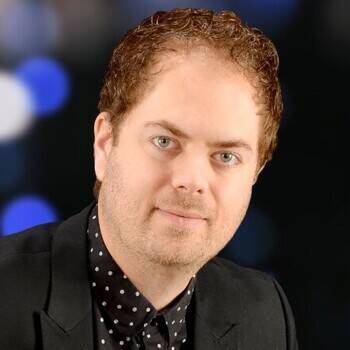 Written by: Quincy Walters
Scott MacIntyre was born blind, but his life has never lacked vision.
On the eighth season of "American Idol," MacIntyre was a contestant and his story was welcomed into the family rooms of millions of Americans and on Thursday and Friday the eighth-place finalist will visit USF to share his music and words of hope.
USF and VSA (formerly known as Very Special Arts) Florida, an organization based on campus dedicated to allowing those with disabilities to express themselves through the arts, have partnered to host the event.
"I'm excited to come to USF in support of the VSA Florida, because it's an organization I've been a part of for many, many years," MacIntyre said. "Not only to give my concert, but to also inspire the next generation of performers and artists. It's really a pleasure for me to talk to young people — also adults — and really encourage them to reach for their dreams and overcome any obstacle in their life."
VSA Florida is headquartered on USF's campus, serving Florida students with disabilities. It's an organization MacIntyre credits for his exposure to music.
"They're one of my favorite organizations, because they empower people with disabilities to enjoy the arts," he said. "They had a major part in my life growing up as a blind kid wanting to reach for my dreams."
He said the VSA gave him the tools to reach for those dreams.
"Music for me, when growing up, was a healing thing," MacIntyre said. "I was blind from birth, so there were a lot of things I could not do."
But music is where he found an oasis of solitude.
MacIntyre said music became his sport, hobby and love.
His visual impairment, however, wasn't his most difficult challenge.
He said his most difficult challenge came years later.
At the age of 19, he was diagnosed with Stage 4 kidney failure and was put on emergency dialysis.
He said he was so weak he couldn't play piano or sing.
Before then, MacIntyre said he enjoyed a successful musical journey. Without a donor, he could have died.
But he said music saved him the first time, and it was music that saved him again.
The wife of his piano teacher had a compatible kidney. She donated her kidney and saved his life.
"It was such a blessing to receive not only that gift of life, but that gift of hope," he said. "So now I take the hope that my kidney donor gave to me, and I'm able to spread that hope to other people that are going through difficult times as well."
MacIntyre was on "American Idol" nearly two years later, but said he didn't want to speak of his life-altering ordeal.
"I really only talked about my blindness, so people knew that I had challenges growing up, and they knew my life was probably a little bit different than a typical kid," he said.
He didn't win "American Idol," but he said it served as a major stepping-stone in his life.
"It's opened up so many doors for me. I've been able to travel around the world," he said. "With that platform, I feel, comes a very humbling responsibility to talk to people about life, and about challenges, and about hope, and about holding onto hope in the midst of adversity."
MacIntyre has a new album coming out in spring. This musical venture has been different from his previous ones.
"I've been running a Kickstarter campaign for this next album," MacIntyre said. "When people contribute, they're supporting my music, and the message behind my music."
As for the theme of the upcoming album, he said he's waiting for his fans, friends, and his family to help him decide.
One thing, he said, is certain.
"It's going to be an album that I hope will uplift people when they hear it — something they can listen to and escape from the problems of the world for a little bit, but also overcome the problems in their life," MacIntyre said.
At 10 a.m. on Thursday, MacIntyre will speak to visually impaired students at Barnes Recital Hall in USF's School of Music building. On Friday at 8 p.m., MacIntyre will perform his "An Evening with Scott MacIntyre" program, in the Marshall Student Center.
"I'll be doing several favorites from 'American Idol' that people will remember, and I'll also be doing some original songs from my last CD, 'Heartstrings,'" MacIntyre said.
There's one song in particular that he said he looks forward to perform — "I Am Hope."
"I wrote it about my kidney donor being hope to me, and being able to pass that hope on to so many people around the world," he said. "It's a really cool song, and it's become kind of a theme song for the transplant community, and for some of the disabled community."
Ultimately, MacIntyre said he is hoping his music-making not only entertains, but inspires.
"I want people to walk away feeling that there's no obstacle too big that you can't overcome, if you walk by faith, not by sight," he said. "I want people to walk away knowing that there's no hurt that's too deep that can't be healed if you have faith and you hold onto hope in the midst of adversity."
For information on how to book Scott MacIntyre for your next event, visit PremiereSpeakers.com/Scott_MacIntyre.
Source: The Oracle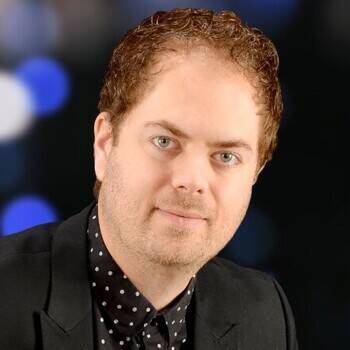 Want Scott MacIntyre for your next event?
Find out more information, including fees and availability.
Find Out More
Keep Reading