If you've participated in one of my workshops, or watched my videos on YouTube, you've heard me riff on the importance of environment in the creative/innovative process. You put a person in one setting - let's say, a basement windowless conference room in the Days Inn — and they underwhelm you with the ideas they come up with. You take that same person on a corporate retreat to the JW Marriott Resort and Spa in Phuket, Thailand, and oh my what a difference!
I've worked with innovation teams in 54 countries under all sorts of conditions. I've experienced all sorts of environments and organizational cultures. And that's why I believe so strongly in "managing your mental environment" as a precursor to ideation.
This month, allow me to take you on a tour to some of my all-time favorite environments for not only fostering your creativity but enriching your life with serenity and natural beauty.
La Quinta Resort, Palm Springs, California
At this famous resort in the Southern California desert, I I first fell in love with the beauty of landscape. Although my first time there was for a speaking engagement, I took time to wander the grounds of the property and chat with the groundskeepers who keep it pristine, and this became my practice.
In these botanical resorts, I first reflected on how the beauty of nature, combined with the opportunity to share my ideas on the innovation process and the opportunity to coach and interact with some of the smartest, most successful people on the planet, was personally transformative. To put it simply I allowed myself to think bigger about what a "best life" could be, and turbocharged my work ethic and inner drive. Thirty-five years of such experiences have fueled my love of beauty, and intention to reach higher, learn faster, and take time to enjoy the moment.
Majorelle Garden, Marrakech, Morocco
Of all the places I've had the pleasure of discovering while there on business, Morocco - and Marrakech in particular - has to be near the top of the list. I became so enchanted with the charms of Morocco that I organized a tour of the entire country and invited seven of my favorite adventure-loving friends to come along.
The epicenter of inspiration is Marrakech's Majorelle Gardens which was designed by French artist, Jacques Majorelle (1886-1962). As an aspiring painter, Majorelle was sent to Morocco in 1917 to convalesce from a serious medical condition. He fell in love with the vibrant colors and street life in Marrakech, and these themes are reflected in the unique environment he created. Marjorelle Garden sits in the heart of a bustling, enchanting and exotic city.
Henry Ford Museum, Dearborn Michigan
During a weekend layover in Detroit, somebody suggested I might enjoy checking out this famous museum of human ingenuity — and they were right! In a huge, cavernous building, Ford's heirs have gathered not only an amazing range of classic automobiles, but such relics as the limo in which JFK was shot in Dallas, Texas, an early version of a McDonald's hamburger stand, and Henry Ford's original automobile, the Quadricycle, which is housed safely in plexiglass. Having grown up on a farm in Chapin, South Carolina, the big attraction for me was the miles and miles of labor-saving farm implements, from McCormick's Reaper to the cotton gin, and many inventions that never made it into production but are nevertheless, examples of human ingenuity and entrepreneurship. By relishing in the creativity of minds focused on alleviating human drudgery and yes, making a buck, you'll find inspiration and perchance, a solution to your most compelling challenge just by walking the acres of inventions.
Four Seasons Resort and Spa, Bali, Indonesia
One of the more spectacular Balinese gardens that I had the good fortune to visit (while on a lecture engagement to address Asia-Pacific telecom executives) was that of the Four Seasons Resort of Bali. Designed by Australian architects Martin Grounds and Jack Kent, the property is nestled on a scenic coastal mountainside with infinity pools, thatched roofs, and spectacular views of Gunung Agung, Bali's most sacred volcano. Plumeria scents the air with heavenly perfume, exotic plants abound, and botanical diversity is everywhere. For work or play, this is one environment - indeed one island — that is guaranteed get your creative juices flowing, and open your soul to enchanting beauty.
Lotusland, Montecito, California
Back in my home town of Santa Barbara, inspiration awaits at Lotusland, just down the road from my house. Polish opera diva Ganna Walska came to California in search of spiritual enlightenment, and in 1941, encouraged by her sixth and final spouse (who was also her yoga guru), she purchased a 37-acre estate in Montecito and began a lifelong project to transform it into a world-class botanical environment. Whenever we have visitors, my wife, Carolyn and I always try to arrange a visit to Lotusland, where down one path you'll find yourself in a sea of barrel cacti and in another, the most beautiful array of rare succulents, palms, and cacti in North America, and you'll leave with ideas to make your own environment transcend the ordinary.
Tucker's Yurt, Santa Barbara, California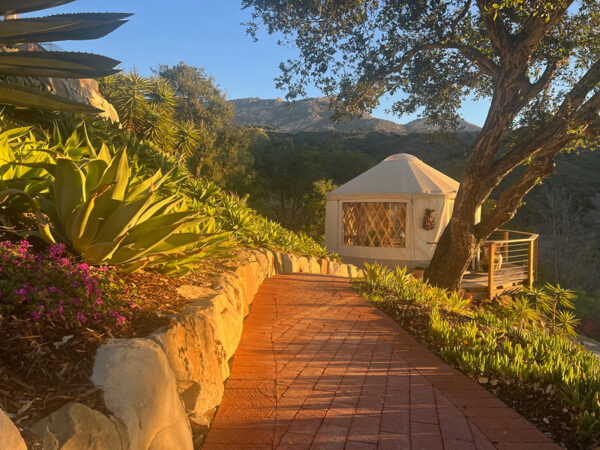 After years of visiting and working in beautiful environments like the ones above, I developed a new hobby: xeriscaping in the California outback. I wanted to come home to an enchanting environment, to surround myself with beauty on an everyday basis, but was too busy with travel and family obligations to do much about it. During Covid, and in preparation for my daughter Cara's wedding on the property, I finally dove deeply into studying the art and science of landscaping. I asked myself: what makes a Mediterranean environment authentic, timeless, sustainable in the age of Climate Change, and how might I create such an environment?
After hiring (and firing) several local landscape architects, who kept saying "why do you need me" I realized I didn't need to purchase their ideas, but to tune in to my own, and trust my instincts. Best thing I did was to purchase books on hardscape/softscape with titles like "The Tropical Garden," "Palm Springs-Style Gardening" and a favorite, "Gardens are For People," by the noted 20th-century landscape architect Thomas Church.
Chosen plants include cycads from Aloes in Wonderland, (a famous local nursery), agave, bougainvillea, cactus, and king and queen palms. Next, I constructed a yurt for brainstorming, writing, and practicing speeches out loud where only the coyotes can hear me. And I worked with various hardscape and softscape crews to build a Canyon Terrace for wedding-goers to gather on for cocktails, sushi, and sunsets. If you're ever in Santa Barbara, I'd be glad to give you a tour. Reservations required!