Pam Peterson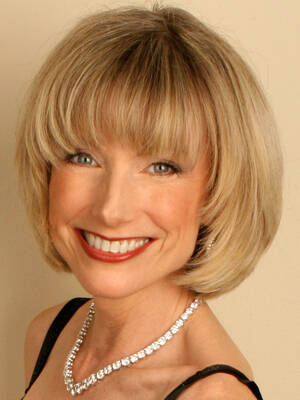 Pam Peterson Bio
Pam Peterson is nationally known for her YouTube hit "Memory", an original musical spoof
that went viral in 2011 and gained over 4.5 million views. An award-winning cabaret artist,
actress and big band vocalist, Pam has wowed audiences in musical shows across the US.
Pam Peterson has been featured in many Equity stage productions, pops symphony
concerts, and television commercials for Fortune 500 companies including Prudential,
MacDonald s and Motorola. She recently won the prestigious "After Dark Award" for her
outstanding work as a cabaret artist in such shows as "Whateverland: The Midlife
Adventures of Peter Pam" and "Who Am I Again? (A Tuneful Guide to Mastering Change)".
Pam Peterson has delighted clients with her clever parodies and customized musical
revues through her unique production company, Custom Cabaret. Pam s vocal duo, The
Boomer Babes, and vocal trio, Stardust, have won devoted followings and critical acclaim
performing nationally at concerts and private events.
As an ACE-certified personal fitness trainer, Pam Peterson has facilitated profound change
in the health, appearance and wellbeing of her many dedicated fitness clients. A staunch
believer in the transformational power of physical awareness and movement, Pam has
shared her enthusiasm in group, corporate and one-on-one settings. She was awarded
Best Trainer in Chicago by HG Magazine, and continues to effect winning results.
Pam Peterson has merged her areas of expertise and passion to form ZING!, a singing
fitness experience offered as both a corporate interactive show and a fitness class. Pam s
skill as a choreographer and huge repertoire of pop and Broadway songs from all decades
lend themselves to lively, catchy ZING! routines that appeal to all generations. From her
trove of vocal training and experience, Pam shares singing, breathing and motivational tips
with her ZING! devotees.