Mike Ditka
Legendary NFL Coach and Hall of Fame Member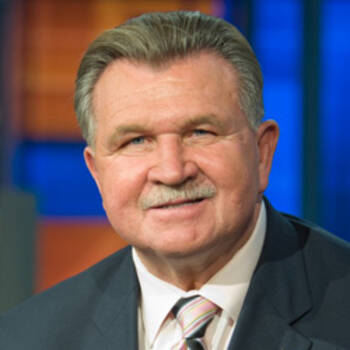 Mike Ditka Bio
Mike Ditka, Pro Football Hall of Fame player and Super Bowl-winning coach, joined ESPN as an NFL analyst in 2004. With a combined 26 years of playing (12) and head coaching (14) experience, Ditka is a key weekly contributor to Monday Night Countdown, Monday Quarterback on ESPNEWS, The NFL Huddle on ESPN Radio and SportsCenter. Ditka also previously worked as both an analyst and commentator at CBS and NBC.
Ditka has amassed a career few can match. He is only the second person to win the Super Bowl as a player (Dallas, 1972), assistant coach (Dallas, 1977) and head coach (Chicago, 1986). After earning All-America honors at the University of Pittsburgh, the tight end enjoyed a stellar 12-year NFL playing career. He was named NFL Rookie of the Year and selected All-Pro six times. He also caught a touchdown in the Cowboy's Super Bowl VI win against the Miami Dolphins.
As an assistant coach with Dallas, Mike Ditka's teams made it to the playoffs eight times including the 1977 Super Bowl victory. In 1982, he assumed the head job in Chicago, and in 11 years, collected six NFC Central titles, three NFC championship game appearances, and the Super Bowl XX title (1986) for which he was named Coach of the Year. He again earned the honor in 1988 after coaching the Bears to the NFC championship game. Mike Ditka left Chicago in 1992 only to return as head coach of the New Orleans Saints in 1997. He retired from coaching in 2000.
Ditka continues to generously devote himself to varied charitable endeavors, including numerous anti-drug and prevention campaigns. He founded The Mike Ditka Foundation in 1989 to raise funds for Misericordia, a residential facility for developmentally disabled children, and also, for pediatric AIDS research programs.
Since his days with the Chicago Bears, Mike Ditka has opened Iron Mike's Grille, located in the Tremont Hotel in Chicago. His favorite hobby remains golf to which he plays to a six handicap. He also has a collection of antique cars and a Harley Davidson. Mike is married (Diana) and they reside in New Orleans. They have four children; Mike, Mark , Megan, and Matthew.