Matt Hoover
Winner of NBC's Emmy nominated hit show The Biggest Loser.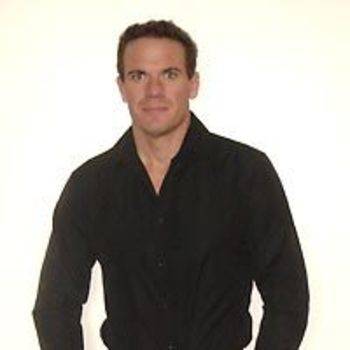 Matt Hoover Bio
Matt Hoover was born and raised in the small Iowa town of Belle Plaine. Matt became one of the best high school wrestlers in state history by winning two state championships, earning all-American status and representing the United States in international competition. Dan Gable, former Olympic Gold Medalist and University of Iowa wresting coach, recruited Matt to wrestle for the University of Iowa, the top college wrestling program in the nation.
Matt was a member of the Iowa wrestling team for four years, wrestling in the 177 and 190 pound weight classes, but he never achieved his wrestling goals. After his wrestling career ended, Matt struggled with his failure to live up to the standards that were set for him--not winning an individual national title, not competing on the international circuit, and, most of all, not competing in the Olympics. He felt as if the true physical challenges in life had passed him by and he had failed. As a result, Matt lost the motivation to stay fit, healthy, and athletic. He ultimately developed severe eating and drinking problems, became severely overweight, and all aspects of his life suffered as a result.
In February of 2005, Matt was cast to be on NBC's hit reality TV show "The Biggest Loser 2" and his life changed forever. Matt arrived at The Biggest Loser Ranch in March of 2005 weighing 339 pounds. At the ranch, Matt was instructed by personal trainers, nutritionists and doctors regarding healthy living, proper diet, and exercise.
Matt's experience at the ranch was an emotional journey to say the least. He battled and confronted the inner demons that caused his eating and drinking problems, his weight gain, and his unachieved athletic goals. During the filming of the show Matt also lost his uncle to heart failure, further emphasizing that an unhealthy lifestyle not only affects his life but also the lives of all those who love him and count on him. Matt survived various "eliminations" on the ranch, making it to the final three, and leaving the ranch weighing 230 pounds.
Matt returned to his home environment with the knowledge that he would need to continue to lose weight and stay healthy in order to win on the show and in life. At the Biggest Loser 2 Live Finale, which aired on November 29, 2005, Matt won the show's grand prize of $250,000 by weighing 182 pounds. During his time with The Biggest Loser 2, Matt lost a grand total of 157 pounds (over 46% of his body weight). Matt won the grand prize by losing more than any other contestant. Matt is also a winner because he "has his life back", continues to live his healthy lifestyle, and has remained sober since his first day on the ranch.
Since the Finale, Matt has shared his story on Regis & Kelly, the Today Show, Access Hollywood, the Tyra Banks Show, Larry King Live and most recently the Oprah show. He has been featured in Time, People Magazine, In Touch Magazine, US Weekly as well as several other publications. Matt was a special guest at the VH1 "Big In 2005 Awards", on the NBC airing of the "Radio Music Awards", as well as countless other print and web publications. Matt is currently sharing his story of health, wellness and weight loss as a public speaker to groups and organizations of all types. Matt's first book, "Matt Hoover's Guide to Life, Love, and Losing Weight was published in 2008. He continues to inspire others by completing the world famous Kona Ironman course in October 2009.
Matt and his wife Suzy, who he met on the show, have two boys, Rex (2 years) and Jax (1 year). They live in Seattle, WA.