Linda Ellerbee
Award-Winning Television Journalist and Breast Cancer Survivor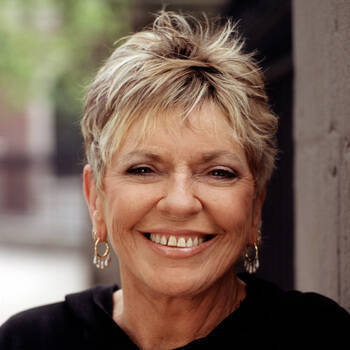 Linda Ellerbee Text Reviews
She was wonderful--her speech was dynamic, heart warming and real. I was able to meet her and had an immediate feeling of warmth and kindness. She is truly an inspiration for all and I am so glad she was able to share her story with us in Houston.
Gloria Moorman - Nancy Owens Memorial Foundation
The audience was intrigued by your life history and found your talk both informative and enlightening. Your presentation set the perfect mood and energy level for the conference.
Michael Eason, Executive Director - Florida Educational Technonolgy Corporation
Her story was inspirational--how she basically took lemons and made lemonade. She made her life happen and stepped outside herself to become who she is today. She is an extraordinary person and we are lucky she chooses to share her story with the world.
Nancy L. Jewell, Publicity Director - Husqvarna
To put it plainly, Linda Ellerbee blew them away . . . news reporter, writer, producer--and as the room soon learned--a captivating storyteller who took charge and gave the group power . . .
The Hartford Courant
Ellerbee kept the crowd laughing with tales of her colorful career in journalism . . . it is the cancer survivors who bonded most with the newscaster, sharing a connection that Ellerbee said can be understood by those who have been down the same road.
Chicago Daily Herald
Linda Ellerbee was a fantastic speaker. She was the most dynamic of all of our speakers, and the best moderator we could have had for the panel. Out of about 14 keynote speakers in two years, she is the only one to receive a standing ovation.
Zayed University
. . . thank you for the impressive message with which you launched our leadership celebration. Your candor, competency and frankness charmed students and adults alike . . . You clearly have a story to tell and you so obviously enjoy telling it.
Emma Willard School