Premiere Exclusive
Joe "Mr. D" Dombrowski
Comedian, Teacher, Actor, Public Speaker and Internet Sensation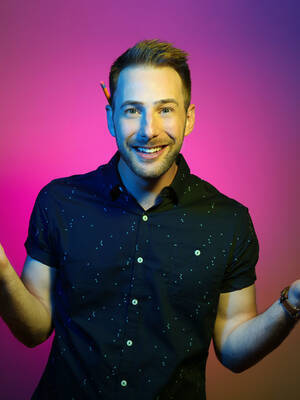 Premiere Exclusive
Joe "Mr. D" Dombrowski
Comedian, Teacher, Actor, Public Speaker and Internet Sensation
Travels From
Seattle, Washington
About Joe "Mr. D" Dombrowski
An educator giving a spelling test with imaginary words may not seem like the most traditional method of promoting learning, but then again, there isn't much that can be considered conventional in Joe Dombrowski's - or as many know him, Mr. D - classroom.
While Dombrowski had been routinely posting creative, innovative and most importantly, fun ideas to his social media channels he executed in his fourth grade classroom since he began his teaching career, it was one in particular that captured ...
In 20 years of working with improvisers, I've never known anyone quite like Joe Dombrowski. His ability to connect with the crowd and perform at such a high intensity level is unrivaled. From the second his foot hits the stage he owns the room and I've never seen him fail to win over a crowd. His beaming personality is electric and his energy could fill the Coliseum. Joe cannot be ignored - such an incredible talent.
PJ Jacokes, Director - GoComedy
"Over the years I've introduced you to a number of incredible teachers, and this one [Dombrowski] is one of my favorites."
Ellen Degeneres
My favorite part about you is the amazing inspiration you must be to your co workers! So many of our teachers are losing faith and the will to teach such unruly youth. I bet you're like an amazing cup of coffee/hot chocolate to some! What a stand up good guy you are. Don't ever change Mr D. Well done sir, well done.
Christy Belknap - Ohio
The world needs more teachers like you, and you are a true example of why teachers deserve much more than they are given. You will be the teacher that your students will remember for the rest of their lives. Bravo
Giuseppe Michele
Mr. Joe Dombrowski presented at our Teacher to Teacher Tech Rally. We would welcome him again any time!!! This was an event for teachers to help them understand and become excited about integrating technology into their classrooms. Mr. Dombrowski was engaging and fun in his sessions. He circulated throughout the room and helped engage all the teachers, some of whom were nervous about the topic. He is able to speak to a wide range of participants.
Kim Logie-Bates, Technology Integration Specialist - Royal Oak Schools
Joe, I wanted to say thank you. Thank you for being YOU! So many times we see educators not truly be themselves or make their original mark. It's so outstanding to see an educator that is true to themselves. So thank you for not being afraid to show the world who you are as a person and teacher. Secondly, thank you for telling our students the truth. Students need to know exactly what its like to be a teacher. I love that you are honest and share real life events with them. You truly made a difference to so many educators. Lastly, thank you for telling the world about how great teaching is. Today's times are not the best for educators and yet you make it what it is. I love that the world gets to see how wonderful teaching is and even though it can be tough its still worth the risk. Thank you for making a difference, change, and for being YOU! Continue to shine and educate because you are making a difference.
-
Tom Kozal - Central Michigan University
7 speaker reviews for Joe "Mr. D" Dombrowski View All