Ret. Lt Col Brian Birdwell
September 11 Pentagon Survivor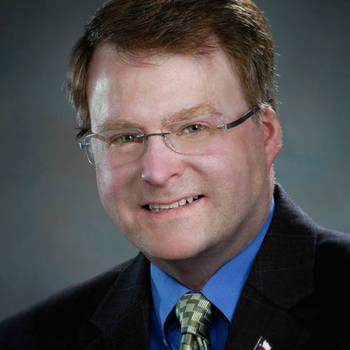 Ret. Lt Col Brian Birdwell Bio
Lt. Col. (Ret.) Brian Birdwell and his wife, Mel, are both survivors of the terrorists' attacks on September 11, 2001. After hijacked American Airlines Flight 77 collided into the Pentagon, Brian was thrown to the ground and engulfed in flames. Of the burns that covered 60 percent of his body, nearly half were third degree. While Brian was fighting for his life and undergoing 30+ surgeries, intensive skin grafts and unbearably painful medical treatment, Mel was fighting to maintain the couple's faith and their family. Because of their devotion to God and to each other, Brian and Mel, along with their son, remained solid in their spiritual convictions and integrity throughout this incredibly difficult ordeal. Together, they communicate a compelling message of enduring hope, unwavering faith, undying patriotism, and unconditional love.
Lt. Col. (Ret.) Brian D. Birdwell is a native of Fort Worth, Texas, and a 1984 graduate of Lamar University in Beaumont, Texas. Graduating as the Distinguished Military Student through the Army ROTC, he continued his service in the United States Army at Ft. Sill, Oklahoma. After subsequently serving in South Korea for 18 months, Birdwell returned to the United States and met his future wife, Mel.
Originally from Davis, Oklahoma, Melva Collins first spotted Brian Birdwell, a handsome 1st Lieutenant, in her brother-in-law's military yearbook. She corresponded with Brian for several months while he was in South Korea, and after his return to the U.S., he and Melva kept in contact by phone. The long-distance relationship became a face-to-face romance in 1986. They married in May of 1987.
In 1989, The Birdwells moved with their new son, Matthew, to the Army base in Kitzingen, Germany. While stationed in Germany, Brian was deployed for Operation Desert Shield/Desert Storm and earned the Bronze Star for his action in the Gulf War. Mel, meanwhile, volunteered with the American Red Cross and was employed as its installation volunteer coordinator until June 1993.
After Mel and Brian returned to the U.S. from Germany, Mel graduated with a Bachelor's degree in Human Development and Family Services from Kansas State University and became coordinator for the senior nutrition programs for Leavenworth County, Kansas. When the Birdwells subsequently moved to Ft. Lewis, Washington, in 1997, Mel served as the congregate meal site manager for the senior nutrition program run by the American Red Cross in Pierce County, Washington.
In 1996, while assigned to duty at Fort Leavenworth, Kansas, Brian completed his Master's degree at the University of Missouri?Kansas City. In 1998, he served as the Operations Officer (J3) for the Joint Task Force in support of relief operations in Central America in the aftermath of Hurricane Mitch. At the time of the attack, Birdwell was serving on the Department of the Army staff at the Pentagon as the Executive Officer to the Deputy Assistant Chief of Staff for Installation Management. He was awarded the Purple Heart for wounds received on September 11, 2001. After 20+ years of service in the United States Army, he retired on July 1, 2004. Upon his retirement, Brian now serves as the president of Face the Fire Ministries, a 501C3 non-profit which serves critical burn survivors and our nation?s wounded servicemen and women.
Today, Mel fulfills her greatest calling yet - that of being a stay-at-home mom. She also enjoys volunteering at their church, Immanuel Bible Church, in Springfield, Virginia. In June of 2002, Mel was presented with the fourth annual Robertson McQuilkin Award for Commitment to Marriage by FamilyLife, an international family outreach organization at work in over 100 countries. She was honored for her strong devotion to her 16-year marriage and for her dedication to seeing her husband's health fully restored.
The Birdwells believe that Brian was spared for the purpose of telling others about the Gospel, and they delight in sharing God's love and sovereignty with others. They currently reside in Manassas, Virginia, with their teenage son Matthew and golden retriever, Hayley.