Brokenness. Every one of us have struggled with it. It is a fact. It is biblical: "For all have sinned and fallen short of the glory of God." - Romans 3:23. Every single one of us has messed up. I think we have to begin here because I think we walk around, and we think everybody's okay.
My fear is that we've learned to clean up our brokenness so well that we forget that everybody else is broken, too. And so we do the thing that the devil wants us to do, and we hide in our shame.
Hiding
When you look back at Genesis, it's the beginning of brokenness. It's the beginning of creation, and God said it was good. Then, it all falls apart. Even still, God calls to Adam and Eve, "why are you hiding?" It was the first thing they did.
My hope is that you would come out of hiding, that this would be a season of breakthrough for you, and that you would actually say, "I am broken," and you wouldn't be afraid to do that regularly.
No Condemnation
My hope is in Romans 8:1 - "There is therefore now no condemnation for those who are in Christ Jesus." And there's a reason for that. The reason is for those who are in Christ Jesus, every single mistake has been covered by the blood of Christ. Every single thing I will do, everything I have done, everything I do currently, it is covered by the blood of Jesus Christ, and I get to be broken. I get to say, "you know what? I'm not measuring up at home. I am struggling in my marriage. I'm struggling with my coworkers. I am lonely. I disappoint people." I can say all these things out loud because I am not defined by them.
Shame
We, ourselves, have lived under condemnation, and we have spread condemnation onto other people's lives. This is why we don't have a healthy relationship with emotion. And Adam and Eve didn't have a healthy relationship with their emotion, either.
We tend to do one of two things with shame:
We rebel because we've already screwed it up so what the heck-might as well screw it up more.

We pretend, we cover up, and we try to make a picture-perfect life to hide it.
If we look again at Genesis, covering up is exactly what Adam and Eve did, and it's just fig leaves. It's not even effective. What God did was shed the blood of an animal, and He covered them with skins.
This was also the image of bloodshed that would eventually cover our shame in Jesus, and those of us that believe Romans 8:1 get to live a lot more freely because we are actually aware of our brokenness. It's not that we're pretending we're not broken. We are aware of it, and we aren't afraid to share it regularly with people because there is therefore now no condemnation for those who are in Christ Jesus. It is the key.
Life and Peace
What we're all craving is life and peace, and it begins with this idea that there is therefore now no condemnation. Why does it begin that way? Why does one of the most important theological chapters in the Bible begin with "no condemnation"? Because it's absolutely foundational to everything else about the way we're going to live. You can look like you're on the road to life and peace and it be the road to sin and death because you have pretended and polished up everything so well.
It is not okay that we are all hiding in our emotions and our difficulties and our struggles rather than coming out with it. There is something we are not believing. So I start here. I am telling you: you are broken. I am broken. And it is okay. It is not okay apart from the blood of Jesus Christ, but it is completely okay because of the blood of Jesus Christ.
Bring it to the light
Whoever conceals his transgressions will not prosper, but he who confesses and forsakes them will obtain mercy. - Proverbs 28:13
There is a theme of bringing things to the light, that there is freedom in the light, that God can redeem things in the light, that there is the absence of darkness and the devil in the light. What I'm hoping you will do is walk away from this wanting to constantly bring your brokenness to the light.
I'm a 7 on the Enneagram. I don't want to feel bad feelings. I'm very in touch with ignoring emotion because I don't want to be sad, but you know what happens? It just grows. And I ignore it until I'm having a complete breakdown. I have seen the seasons of life where I pulled everything out, laid it out for someone, and worked through it.
God built us to walk through grief, to walk through a deeper understanding of what it is that we're feeling and why it is that we need God. I want you to leave so full of hope that you could possibly be brave enough to say out loud the thing that has made you stuck, the feeling that you've been feeling, and the sin you've been struggling with. The truth is, all of us have the head nod for each other because we all are broken, and we all need somebody safe to share it with. So go be brave this week and let's see what happens.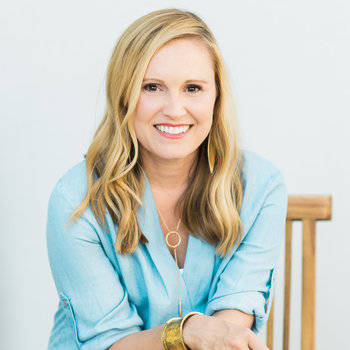 Want Jennie Allen for your next event?
Find out more information, including fees and availability.
Find Out More
Keep Reading