Chad Williams
U.S. Navy SEAL. Author. Speaker.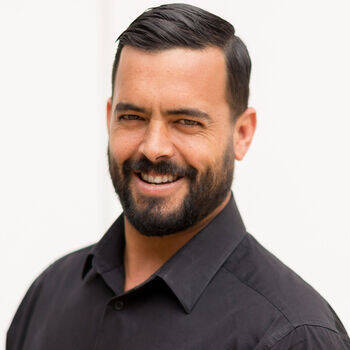 Chad Williams Text Reviews
When the leadership team at Journey Church was planning their first men's conference, they knew that the keynote speaker could make or break the event. Chad Williams clearly made our event great. His real life experience as a Navy Seal combined with his relevant preaching was a big win for the men. Chad isn't just a speaker that is great on stage. He took the time to personally interact and encourage the men he met with on an individual basis. Needless to say, Chad was a hit and a perfect fit for the conference.
Jason Held, Executive Pastor of Administration - Journey Church
I wanted to give you feedback regarding our speaker, Chad Williams at our annual Salvation Army luncheon. Chad is a great story teller weaving his journey of becoming a Navy Seal with the realization of his need for Christ. At times, his story was gripping and very thought provoking. We have received wonderful comments from all those in attendance. Thank you for such a wonderful recommendation.
Kathy - Salvation Army
Chad Williams did an outstanding job as our keynote speaker at our annual Fundraising luncheon. Chad established an immediate connection with the group of 430+ high level Orange County executives and delivered a riveting message that left the audience wanting more! Relating his real life experiences as a Navy Seal to the importance of training and leadership was spot on. We've received numerous positive comments from our guests and would highly recommend Chad to any organization looking for a speaker with an inspirational message.
Chad was a delight to work with. He spent time getting to know our organization and our students and he did an outstanding job personalizing his presentation to tie it into the KidWorks mission.
Chad is truly a gifted speaker -- one of the best we have had!
Lisa Gels, Community Development Corp. - KidWorks
Chad Williams recently spoke at Gateway Church's annual Men's Conference and shared a powerful testimony about his experiences as a Navy SEAL. He hit it out of the park! The guys in the congregation were hanging on his every word. I highly recommend for Chad to come speak at your church or organization.
Robert Morris - Senior Pastor Gateway Church, Dallas/Fort Worth
God shapes his men with the hammer of adversity and the chisel of discipline. You will be riveted by Chad's amazing story. You will be riveted by Chad's amazing story!
Greg Laurie - Senior Pastor Harvest Christian Fellowship
The speakers we've had at our annual Call of the Wild Sportsman's Dinner usually prompt the response, "He was a great speaker." This year, following the presentation of the gospel by former U.S. Navy SEAL Chad Williams, author of SEAL OF GOD, what I've heard from most is, "I don't see how you're going to be able to top that." Chad was engaging, humorous, energetic and had the crowd's full attention for the 35-40 minutes he spoke. It was the clearest, most sound presentation of the gospel I've heard from a speaker in years. That's what we wanted. He delivered.
Greg Tomlin - Travis Avenue Baptist Church
Chad knocked it out of the park. He was fantastic. Great speaker, great story, great evangelist and easy to work with. The event was a success from every standpoint. Thank you for all of your help.
First Baptist Church (Danville, PA)
Chad Williams has a great way of connecting with the audience and his love for Jesus is infectious. His presentation of the Gospel is one of the most clear and concise we have ever heard and many people stood up to receive Jesus at our event!
Lisa Laizure - Connecting the Dots Ministries
I wanted to personally thank you for making our Men's Conference such an incredible event for so many. I truly believe your uniqueness was able to motivate, inspire, challenge and encourage our men to live Christ honoring lives right where they are.
Dr. S.M. Huddleston - Assemblies of God - Northern California & Nevada District
Chad gave a high energy, inspirational message that stirred the hearts of our mens event. He shared his personal struggles and how the Gospel of Jesus Christ shined into his darkness and could shine into the world and those present.
Carl Eliason - Peace Lutheran Church
Chad was outstanding! We've heard so many wonderful comments from the people that attended . . . We estimate 350+ people attended, which is the capacity for our church--
standing room only!! I know Chad reached many people. God at work!
Marilyn Riordan - Bethany Lutheran Church
WOW . . . may have been the best of our series this year...he did an outstanding job . . . I must say, I was pleasantly surprised . . . thanks for suggesting him!
Wendall Brown - Circleville Nazarene Church
I found Chad to be a dynamic speaker, the utmost professional yet very personal. Everyone who attended went way wanting to hear more from Chad.
Sal Flores - Calvary Chapel (Ontario, CA)
Chad Williams did a tremendous job relating to First Baptist Dallas the dedication, determination, and commitment it takes to be a warrior for our country and how that is similar to our call in representing Christ. Our congregation was captivated as he spoke and left encouraged and challenged. It is an honor knowing a man of God who has fought diligently for our country and is unashamed to share his incredible story.
Ben Lovvorn, Executive Pastor of Operations - First Baptist Church of Dallas, TX
Chad did an excellent job at sharing his stories and the Main Story! I thought he held the audience very well and gave a clear and strong Gospel explanation and call to respond! He was easy and flexible to work with and would highly recommend him.
Pastor Rick Plucknett - The Federated Church
Chad was amazing. We had the most people come forward to receive Christ that anyone can remember in the past twenty years. It was incredible. We are now following up with those new believers and helping them get plugged in.
Pastor Aaron Ophaug - Yorba Linda Friends Church
Chad is a dynamic communicator with a heart for evangelism. He's a humble and down to earth guy who relates well to other men. He is not ashamed of the truth and power of the Gospel.
Caleb Eernisse, Pastor of Men's Ministry - Christ Community Chapel
Chad was able to talk to the men in a way that held their attention, caused them to look at their relationship with God more deeply, and gave them the courage to make decisions to not only accept Jesus but dedicate their lives to him.
Roy Smith - Knights of the 21st Century
Chad William's is a dynamic speaker with a compelling message that will have you at the edge of your seat. He's brings humor and nuggets of wisdom that is relevant to our young leaders as well as seasoned leadership.
Clark S. Thompson, Director of Ministry Relations - Partners for Christian Media Inc.
Chad is a gifted speaker with a compelling story and he held the audience captive from word one. His message resonated and penetrated the heart of wide range of men varying in age from 12 to WW II veterans.
Jim Wooster - Cornerstone EPC - Brighton, MI
As I read SEAL of God, I was taken back to my own childhood and reminded of how many times God was protecting me from myself. I laughed and cried my way through the book as I read the amazing journey of a true SEAL of God.
Eric Hovind, President - Creation Today
If you are looking for a fascinating read, you will love SEAL of God. It goes into the heart of a SEAL who is having a battle of his own as he struggles with life's biggest question.
Ray Comfort, Founder/President - Living Waters Publications
We loved Chad!! He had an amazing testimony . . . Great sense of humor Thank you for the recommendation!!
Chris Rury - First Presbyterian Church Salinas, CA
We had an Outreach BBQ with nearly a thousand men in attendance. Chad hit a grand slam with his message--very compelling, inspiring, and God-honoring. Off the stage, he was a blast to hang out with--he's the whole package!
Tim Wheeler - High Desert Church (Victorville, CA)
Chad was probably our most dynamic speaker that we have had in recent history. He is an entertaining, engaging, and sincere speaker. He can lead the audience in rapt attention.
COL Nick Rogers (RET) CBMC - Redding, CA
Chad was Great! Great! Great! One of the best, if not the best, Men's Camp speakers we've had.
Keath Biggers - The Salvation Army
We had a great evening with Chad last night. His message was absolutely powerful to our staff. At the end of his message, there were almost 20 people that either made or affirmed a commitment to Christ.
Cliff Carey - Forest Home's Sr. Director of Guest Experience
Chad's sincere and skillful communication style and the content of his message captured the crowd and kept them engaged until the end. The invitation he issued was the strongest and most strategic I have experienced in my over 50 years of experience.
Ruthanne Dolezal, Administrator - Kootenai Valley Christian School
The story of God's grace that Chad tells is complete, concise, and compelling. But the story of his coming to faith in Christ is even more powerful. His integrity and his passion really connected with the men who heard him.
Bob McCartney, Senior Pastor - First Baptist Church & the Church at Sheppard
The level of enthusiasm in the room that morning reached to the ceiling. His presentation of his life and journey as a seal was clear and held the attention of each listener. I am seriously considering Chad to return for our 20th anniversary . . .
Paul - Washington County Prayer Breakfast
Chad did a great job. He was right on point with his message and was very personable with the audience. He made himself available to all. He is an excellent communicator, able to deliver his message in a way that connects with everyone in the audience.
Timothy Guerino, Executive Director - Martinsburg Union Rescue Mission
For 13 years we have been hosting a sportsman banquet and have become known for our food and raffles. This year we will be known for the gut-wrenching Gospel message from Navy SEAL Chad Williams. Very timely and direct. God uses Chad to break through the enemies walls and into the hearts hearts of men as only a SEAL for Christ can. Through engaging real-life stories and a heart felt call to repentance, Chad has an amazing ability to both encourage and challenge men to respond to God's mission, both internally and externally. Without a doubt he is the best speaker we have ever had for our men's banquet! The only problem is that he set the bar pretty high for next years event! Maybe we will just have him back?
Pastor Jason Fuller - Brighton Nazarene Church
Chad was inspiring and dynamic. He has multi-generational appeal and is a wonderful communicator--reaching out and pulling the audience in. He is comfortable in a "worship" setting and worked well with our Senior Pastor and staff.
RosaLee Alfred - Oak Ridge Baptist Church
Chad was easy to work with and everything went well. We would highly recommend him to a variety of audiences.
Eric Pratt - Mississippi College
Everything was great! We had an amazing crowd and Chad's delivery was well received by our congregation. I am so glad that His plan came together.
Brooks Braswell - First Baptist Church (Umatilla, FL)
Chad arrived and hit the ground running. He was immediately engaged with those in attendance at the Expo. I so appreciated his willingness to reach out and talk to the people as they came up to him. He wasn't rushed and seemed genuinely interested as each person came to speak with him.

His time of sharing was everything we had hoped it would be. He shared his life experiences but his passion was his relationship with Christ and that was apparent. I will gladly recommend Chad as I go to my conference this year with other Mega Metro churches in the country.
Julie Pigsley, Outside Events Coordinator - First Baptist Indian Rocks
It was a great event. Chad arrived and hit the ground running. He was immediately engaged with those in attendance at the Expo. I so appreciated his willingness to reach out and talk to the people as they came up to him. He wasn't rushed and seemed genuinely interested as each person came to speak with him. That is something I hope for because our people love to interact. Some of our speakers in the past have been standoffish and unapproachable. Chad was the complete opposite.
His time of sharing was everything we had hoped it would be. He shared his life experiences but his passion was his relationship with Christ and that was apparent. I will gladly recommend Chad as I go to my conference this year with other Mega Metro churches in the country.
Julie Pigsley - First Baptist Church (Indian Rocks)
Our event has an "ecumenical" look to it with different faiths involved. That is why we have sought speakers like Chad who will not hold back in presenting the gospel and speaking truth. We were not disappointed. He kept the audience on the edge of their seats the entire time.
Dan - Calvary Chapel
Chad Williams did an outstanding job speaking to 150 school leaders at our annual leadership conference. His message is important, the significance of mentors and how the Bible and Navy SEAL Code of Honor inform and guide our lives as leaders of teams and followers of Christ. Chad's story is unique and remarkable. As someone who does not like to sit still for long, I was shocked when Chad's 45-minute message ended exactly on time because I was completely engrossed in his story. He skillfully wove the story of his mentor, his story of becoming a Christian and Navy Seal, and a charge to live fully for God into a seamless, humorous, and challenging message. Our regional leadership team met after the conference and insisted I bring Chad back to speak to our wider audience at an upcoming conference. Thank you, Chad, for a job very well done!
Cecil Swetland, Regional Director - ACSI California/Hawaii Region
Everyone should hear Chad Williams. His dedication, experience, and devotion is readily seen.
He shows the value of teamwork, patriotism and acknowledgment of God in a very unique way." He greatly helped our group.
John F. Scheel, President - ACCREDITING COMMISSION INTERNATIONAL
Chad was amazing! He connected with the students at their "level" and added enough drama and levity to keep their interest. We definitely recommend him!
Margie Asef - Greater Atlanta Christian School
"The 2018 Western Conservative Summit was a huge success and it would not have been the same without Chad Williams there. His speech, following our Military Recognition, tied in perfectly to the theme of Fortifying Freedom and had a true impact on our audience."
Amy Smith - Centennial Institute
Not only were we greatly encouraged, you helped us secure some much-needed funding. I think that speaks highly to several things; 1) The recognition of sacrifice made by those who serve in the military. Many of our sponsors were excited specifically because we were bringing in someone who could speak authoritatively about life as a Navy SEAL and of sacrifice. 2) Your ability to weave your experience into the night and to help 'make the ask.' It resulted in an easy-to-understand analogy of how important our donors are to what we do and they responded!
Rob Swiers - New Life Center (Rescue Mission)
Chad spoke at our church for our Hero Weekend and his ability to weave his story with God's word were inspiring. Beyond his speaking ability, Chad was very down to earth and approachable. He was a great guy on or off the platform and I would highly recommend him for your next event.
Nick Poole - Calvary Church
In the last two decades, I have worked with numerous speakers. Chad is in the top 5% of speakers that I have worked with. He is a powerful speaker and a genuine person. It was refreshing to get to know him as a person who loves to tell people about Jesus.
David Sena, Founder - BoldLeading
I cannot explain how awesome our experience was with Chad. This was our first experience with what I would call a high profile speaker. Chad of course hit a home run with his message. The incredible part was he stayed and spoke to every single man that wanted to shake his hand. The event was over around 8:30 but chad didn't leave until after 11pm. What an incredible guy! Over 20 men surrendered their lives to Christ last night!
Dustin York - Northstar Church
The event went great and Chad was a huge part of the success of Hunting for Hope. I knew he would be good based on all the video I viewed, but he was so much better and he resonated with everyone. I would use him again and will promote him and Premiere Speakers!
Scott Walker - Christ In Youth
Chad's story of setting a goal, taking on a challenge and then searching for and finding purpose is engaging and powerful. He challenges the believer to find and understand God has a purpose for their life, while also giving a clear presentation of the Gospel and how the Gospel helped him find peace and purpose.
Clayton Owen - First Baptist Ruston