Premiere Exclusive
Dr. Ben Carson
Former US Secretary of Housing and Urban Development / Conservative Political Thought Leader / Renowned Pediatric Neurosurgeon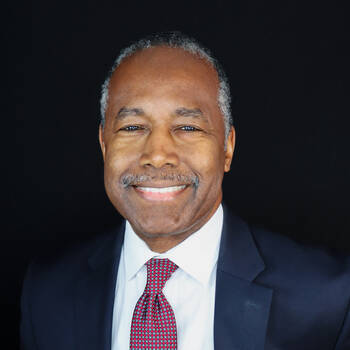 Dr. Ben Carson Text Reviews
Benjamin Carson, M.D. is just extraordinary. Many people indicated that this event was the best we have ever had.
Event Director - Seattle Pacific University
The event was a great success! Dr. Carson was a delight. He's such an amazing individual and a true inspiration.
Gala Organizer - Salvation Army
The event was a huge success. Dr. Carson was great, and we have gotten tremendous feedback.
Bill - The LifeSavers Foundation
His speech last night was incredible. He was very funny. I had no idea he was so funny. He had to constantly pause for applause to die down. When we weren't laughing or applauding, you could hear a pin drop in the room. His stories and overall message resonated strongly with our audience. He tied in what the Salvation Army does for those in need with his stories. His speech was exactly what we asked for. And the audience loved it.
Becky - The Salvation Army Women's Auxiliary of Peoria, IL
Dr. Carson's speech was outstanding and people continue to tell us that and to thank us for giving them the opportunity to see and hear him in person. He was so gracious to all of our guests whom we invited to the special meet and greet before the banquet. We highly recommend Dr. Carson to any organization whose mission is in line with any of Dr. Carson's many areas of expertise!"
Executive Director - Pennsylvania Pro-Life Federation