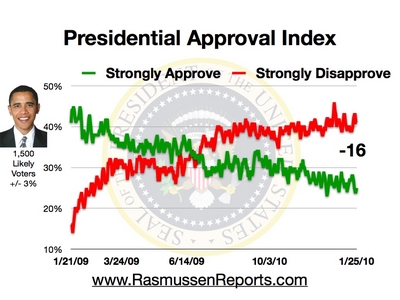 A new poll from Rasmussen Report shows a continued decline in President Obama's approval rating and a continued include in his disapproval rating. According to the report, "25% of the nation's voters Strongly Approve of the way that Barack Obama is performing his role as President. Forty-one...
---
The following is an excerpt from Michelle Singletary's personal finance column in The Washington Post:
I thought it was a simple challenge, albeit a hard one.
Could you spend 21 days -- three weeks -- without shopping for things you don't need? Could you put your credit cards away for 21 days and...
---
As you have no doubt heard, a devastating 7.0 magnitude earthquake struck Haiti near her capital of Port-Au-Prince on Tuesday afternoon. It was the strongest earthquake to hit Haiti since 1770, and two of its aftershocks were nearly as intense.
The damage is horrific, and has only worsened in the...
---

The brand new 2010 Premiere Speakers Bureau catalog is now available in digital form at Catalog.PremiereSpeakers.com!

With this new online catalog, you can access it online whenever you want. Additionally, you can save it as a PDF, print it or send it to friends and coworkers.

Find the perfect...
---
The New Year gives us a gate to the next chapter of our lives. We tend to look back to assess what we've learned from the past year and use the fresh start of a new calendar to promise ourselves that things will be different in the coming year.
I've learned this year that the more government tries...
---
The Republican Party dropped the ball in the two decades following Ronald Reagan's presidency, according to GOP chairman Michael Steele.
"We screwed up," he wrote in his upcoming book Right Now: A 12-Step Program for Defeating the Obama Agenda. "We must support Republican officials who assert...
---
The following is an excerpt from Michelle Singletary's latest column for The Washington Post:
I'm inviting you to take a 21-day financial fast in which you will buy only necessities. The fast is really about curbing the need to consume. It doesn't matter whether you're a good steward or a...
---
The following article about Andy Andrews is titled "Stand Up, Speak Up and Step Up in 2010" by Gary Palmer:
At the start of each year, people make resolutions or set goals. Here is a suggestion for a resolution for 2010 … do something that will make a difference. It is easier than you think and...
---
The following was originally posted on Ruben Gonzalez's blog:
During the luge season I travel with a group of athletes from around the world. I'm 47 and all of them are in their 20s. We travel together, room together, eat together and train together. We really get to know each other.
Sometimes...
---
Is President Obama's momentum slowing down?
Political strategist Dick Morris was asked this by Sean Hannity on Fox News' Hannity. Morris, a former advisor of President Bill Clinton and author of the best-selling book Catastrophe, interprets a new poll that says that Obama's approval rating has...
---