Steve 'The Woz' Wozniak was voted off of ABC's Dancing With The Star last night, along with fellow contestant and Playboy model Holly Madison.
Wozniak, who co-founded Apple with Steve Jobs, said that performing on the show made him feel like "the luckiest person in the world."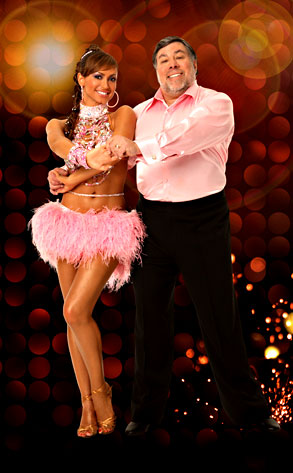 With his dancing days...
---
Laura Ingraham doesn't think that neither the Republicans nor the Democrats are presenting the right solutions to fight the recession. So what's her solution? She tells Bill O'Reilly in the video below:
Laura Ingraham is available to speak at your next event. For information on how to book her,...
---
Andy Andrews' incredible rags to riches story was featured on CNN.
Watch the video for his inspiring story:
Embedded video from <a href="http://www.cnn.com/video" mce_href="http://www.cnn.com/video">CNN Video</a>
Andy Andrews is available...
---
Keni Thomas, an army ranger involved in the Black Hawk Down mission, helped to honor his own at a Houston event honoring American troops. In addition to his works as a leadership and motivational speaker, Thomas is a country music artist, and he was featured on a Houston Fox News affiliate for...
---
The following is excerpted from Bob Rosner's CNBC.com article:
Didn't they used to say that bad news came in 3's? Today if feels like it's coming in 3,000's. Jeez, I can't remember the last good news that I've heard about my portfolio, the economy, the...
---
Mike Huckabee recently jammed with a local band from Elkhart, Ind. during a taping of his Fox News Channel show Huckabee. The former Arkansas governor recorded an episode of his show from Elkhar, as it has the highest unemployment rate in the nation at 19 percent.
Watch Huckabee jam with The...
---
The following is from Vince Poscente's Speed Blog:
I emigrated from Canada to the USA in 1995. (You could say you're protecting the wrong border.) Yet with my good fortune to speak to organizations across the land I often get asked what's in store over the next while. With my...
---
At 96 years old, Art Linkletter isn't slowing down. The Wall Street Journal recently ran an excellent feature on the entertainment icon. The full article, which was written by fellow PSB exclusive Stephen Moore, is available at WSJ.com.
Here's an excerpt:
At 17, the future TV host, entrepreneur,...
---
Gov. Mike Huckabee is featured in a recent issue of Esquire magazine. The article, which refers to the 2008 presidential candidate as "the nicest guy in [the Republican] party", is available at Esquire.com.
Here's an excerpt:
This is Mike Huckabee, postelection. You think he was gonna go home to...
---
The following is from Dennis Snow's blog:
When employee performance issues come up, particularly in regard to customer service behaviors, organizations are quick to send their people off for training in order to fix the problem. Of course, I'm in the business of customer service training, so...
---