Premiere Exclusive
Josh Sundquist
Paralympic ski racer and Cancer Survivor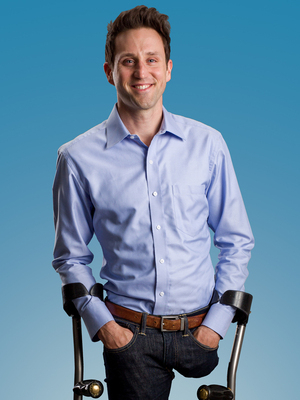 Josh Sundquist
Paralympic ski racer and Cancer Survivor
Travels From
Los Angeles, CA, US
About Josh Sundquist
Josh Sundquist is a Paralympian and bestselling author who has shared his story at events across the world. His high-energy blend of humor and inspiration motivates audiences to adopt his ski racing motto 1MT1MT (one more thing, one more time) to elevate their performance in sales, customer service, quality improvement, leadership, and more.
Josh studies your industry and organizational culture to create a customized keynote that reinforces your event's theme and feels personally relevant to ...
1MT1MT: ONE MORE THING, ONE MORE TIME
Josh's keynote presentations blend clean comedy with soulful storytelling. Hilarious audience interactions are punctuated by moments of profound silence. Your attendees experience a roller-coaster ride of ...
CUSTOM DESIGNED PRESENTATION
Every speech is custom made for your group. Josh weaves his story together with the story of your organization. He attends your entire event, sitting in on general sessions, chatting with attendees at ...
Josh is one of those rare, gifted speakers you come across only so often. Over the course of his session, he'll make you laugh out loud and fill you with raw emotion, all while teaching you vital lessons in empathy, gratitude and resilience. No matter the group, Josh's message will have a lasting, positive impact with actionable takeaways.
Nada Stirratt, VP of Global Marketing Solutions - Facebook
Josh is an extraordinary young man with a message that inspires and awes his audiences with his true life experiences. He is a must for your next meeting!
Vinnie Tracey - President - RE/MAX International
Josh is a wonderful, inspiring, and engaging speaker. The sign of a captive audience at Google is when all laptops are shut!
Erika Choung - Google
I had dinner with the executive team last night and they could not stop talking about you. And how great it was that you came in early to really understand our business.
Lauri Sherry - Manager, Corporate Events - Logicalis, Inc.
Attendees of our event agreed that Josh was the best speaker we've ever had! During his talk, we laugh, we cried, and we had fun. But most importantly, Josh's speech helped the audience feel connected to our mission and inspired to be generous. We appreciate the effort he made to get to know us and personalize his talk for our event. I'm confident that his role in the luncheon resulted in a significant fundraising increase for us!
Pedro R. Payne, Ph.D. - Director Community Outreach & Patient Experience - Loma Linda University Medical Center
Josh received--and deserved--two standing ovations!
Val Durrant - Director, Corporate Development - Children's Miracle Network
14 speaker reviews for Josh Sundquist View All
Josh Sundquist Blog View All
Watch this 11-year-old's standup comedy (for the record he calls it sitdown comedy). I met him a few weeks ago when he came to my one-man show here in Santa Monica. He told me some of his jokes before the show--and ...
This week I'm doing 3 speeches in 3 countries Usually I travel to speeches by myself, but Ashley came along this time--both because of the beautiful locations and to help with driving through Canada on very little ...
My solemate Stephen dropped by my one-man show in LA! We used to live near each other, but ever since I moved to California, we had to mail each other shoes. This was the first time in a couple years that I could give ...