Top achievers in every field understand that wordshave the power to condition the mind to succeed orfail. Whenever you say something, your mind tries tobuild a case for it. If you call yourself "stupid" themind does a subconscious "Google search" on theword stupid and pulls up a list of every stupid thingyou've ever done in your life. Armed with that list,you have the proof that you are stupid and you startacting that way. If you call yourself a winner, yourmind pulls up all your winning ...
Is it your goal to read more books this summer? If so, check out Top Sales World's 50 best summer readsrelated to sales and marketing. One of our favorites include - People Smart in Business, by Dr. Tony Alessandra and Michael O'ConnorPeople Smart in Business, byDr. Tony Alessandraand Michael O'Connor. Ever wondered why your natural behavior sometimes seems to alienate people? It is because that same behavior may not be natural for others. If you want to get along with your colleagues, ...
Every organization has a chance to deliver a positive customer experience. That experience has many starting points and touchpoints along the customer interaction. Each touchpoint will affect the customer's perception of your business and even their loyalty. To remain competitive, take a look at the simplest of interactions and decide how those interactions represent your company. The simple stuff came to my attention with some recent experiences. As I was checking out at a national retail chain, the ...
Thousands of high school graduates will be starting their first semester of college soon, and they have a long list of things they want and need. But don't just send them off with dorm-room basics or a backpack of books without the financial essentials they'll also need.I've put together five things to pass along: ?Become familiar with budgeting: The parties, the clothes and the temptation to keep up with the more well-heeled students will be all around them. Before your freshmen head off to ...
Written by Matt Wake Now it's a longtime Southeastern talk-radio phenomenon, but in the early-90s "The Rick & Bubba Show" "kind of started by accident," co-host Bill "Bubba" Bussey says. "Rick (Burgess, fellow 'The Rick & Bubba Show' co-host) and I were friends and I was actually an engineer at the station in Gadsden (WQEN 103.7 FM) where we started," Bussey says. "And we used to go to lunch and laugh and basically do the show like we do now, talk about things. And we talked about ...
When I was 21 years old, I made a decision totake up the sport of luge and pursue my lifelongdream of competing in the Olympic Games. Many people tried to discourage me. I was toldthat I was too old, that I would break bones,and that nine out of ten people who took up theluge quit along the way. Instead of getting discouraged, I got excited.You see, nine out of ten people quit everything.Nine out of ten people quit sales, they quit medicalschool, they quit on themselves, and worst of all,they quit on ...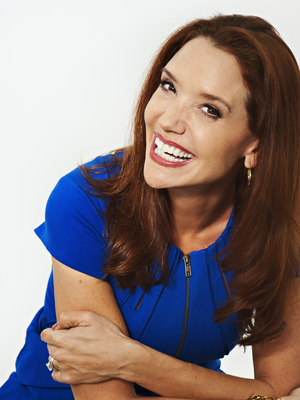 If you haven't purchased your copy of How The World Sees You - by Sally Hogshead yet, here's why you need to: You already have certain naturally fascinating qualities. Sally Hogshead will walk you through discovering what they are and how to harness them in her new book How The World Sees You.These qualities positively shape how others perceive you. These are your Advantages. When you apply your Advantages, you'll create better relationships, grow your business, and ...
Written Kristina Wilder Lines of teachers climbed out of Floyd County school buses at The Forum on Tuesday for "Destination Graduation ... For Every Child."; The school year kick-off event featured Ron Clark, a nationally known teacher, author and motivational speaker. Teachers, staff and administrators were all smiles as they greeted co-workers, waving up at the seats and shouting out friends' names. There was dancing in the aisles as they waited for Clark to ...
Many years ago I was working with a man and both of us felt it was heading toward romance. More and more little things happened that left me feeling hurt or disappointed. However, the situation was favorable on the whole, so it would have been easy to gloss it over. Then a wonderful mentor warned me: "Don't miss the right moment to walk away." She said, "You are still in power. You have a good position. If you back out now it is a sign of strength. If you miss the right moment, it is only going to get worse ...
My most impressive career skill used to be fending off sleazy hecklers in smoky nightclubs, where I performed improv comedy to half-drunk crowds. So I took the obvious next step: I joined the Central Intelligence Agency. My first gig there was in a closet full of wigs, mustaches and glasses, where I created disguises for operatives. So I dressed myself upasRuth Buzzi from Laugh-In, naturally. My boss quickly reprimanded me:These are not Halloween costumes - this is ...