Pauly Shore
Generation X's Comedy Icon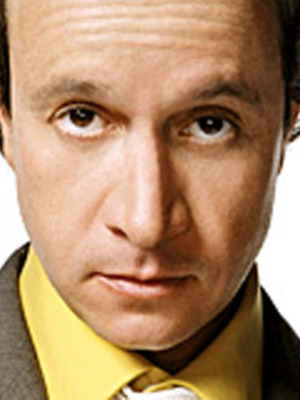 Pauly Shore Bio
Pauly Shore and the world-famous Comedy Store stages a comeback in TBS's Original Comedy Series, "Minding the Store," which premiered July 17, 2006.
TBS is giving down-but-not-out comedian Pauly Shore (Encino Man, Jury Duty) the chance to get his mother's world-famous Comedy Store back on track, while also giving his career a boost, in this new original comedy series.
"The Comedy Store is the place where such comedians as Jim Carrey, Richard Pryor and David Letterman got their start, so it seems perfectly fitting for television's very funny network to follow its revival," said Steve Koonin, executive vice president and chief opperating officer of TBS. "The show will blend the comedy on-stage at The Comedy Store with the quirkly personalities and offbeat backstage antics of Pauly Shore and his mother, Comedy Store owner Mitzi Shore."
"Minding the Store" opens with Mitzi reluctantly handing over the reins of her legendary Comedy Store to her youngest son Pauly, in the hopes that maybe he can pump some life back into it. With his plans of renovations, new promotions and A-list talent, Pauly's goal of making the comedy club great again proves to be a daunting task, especially since his mom just can't seem to let him take over completely.
Equally as daunting are Pauly's attempts to regain his professional footing as an actor, taking classes and telling his agent to put him up for serious, more dramatic roles. He also runs into problems as he tries to juggle relationships with the women in his life and finally date someone "appropriate."
The Comedy Store, located on the Sunset Strip, was founded in 1972 by Mitzi Shore and her husband, comedian Sammy Shore. From the beginning, it featured the top new comedic talent on the circuit, quickly becoming host for HBO's Young Comedian's Special in 1980. The venue continues to present stand up comedy seven days a week.
Pauly Shore gained national attention in 1990, when his MTV series "Totally Pauly" became an immediate hit. After a four-year run, Shore moved into feature films, starring as the wiezel in Encino Man, Son-in-Law, In the Army Now, Jury Duty, Bio-Dome and The Curse of the Inferno. He recently had his directorial feature debut, Pauly Shore is Dead, a semi-autobiographical dark comedy in which he fakes his own death in order to get the attention he craves.
Pauly Shore knows a little something about the fleeting nature of fame and fortune. Despite overwhelming popularity during the early '90s, he has been slapped around by the media, one relatively gracious journalist dubbing him "the dethroned king of dumb-ass comedy."
As an answer to his critics and a step toward getting his career back, Pauly produced, wrote, directed and starred in Pauly Shore is Dead, a semi-autobiographical mockumentary in which he satirizes the perils of Hollywood. In the film, Pauly loses everything and decides to fake his death in a quest for post-mortem adulation. He called in a lot of favors to get the project made and managed to wrangle big-star cameos from the likes of Sean Penn, Whoopi Goldberg, Ellen DeGeneres, Dr. Dre, Clint Howard, Perry Farrell, Fred Durst, Verne Troyer, Andy Dick, Mark McGrath, Jerry Springer, Montel Williams, Sally Jessy Raphael, Kurt Loder and Paris Hilton, to name a few.
An entertainment career was virtually pre-ordained for Paul Montgomery Shore. At age 4, he sat on the lap of The King himself in the company of his father, Sammy Shore, who opened for Elvis during the early '70s. Around the same time, Pauly's mother, Mitzi, and father opened The Comedy Store on Hollywood's Sunset Strip, giving their son the rare opportunity to hang out with such rising talents as Robin Williams, David Letterman adn the late Sam Kinison, who became his mentor. At 17, Pauly began writing and performing his own material, creating the persona of "The Weasel," a character that quickly appealed to young audiences. While playing small roles in such movies as 18 Again and Phantom of the Mall, Pauly Shore honed his comedy routine to a frenetic level, gaining the attention of MTV, which, in 1990, gave him his own show, "Totally Pauly." Pauly rose to national attention during a strong four-year run on MTV, also revealing his comedy chops on the 1993 HBO special "Pauly Does Dallas." His initial success on television led to a three-movie deal with Disney, beginning with the box-office hit Encino Man, co-starring Sean Astin and Brendan Fraser.
Pauly followed up Encino Man with the comedies Son-in-Law, In the Army Now, Jury Duty and Bio-Dome. In 1997, FOX cast him as the freeloading son of a wealthy businessman in the sitcom "Pauly," which unfortunately lasted only six episodes.
Pauly Shore's first comedy album, The Future of America, was named Best Comedy Album by the College Music Journalists, while his second album, Scraps from the Future, earned a Best Comedy nomination from The National Association of Record Merchandisers. He followed those up with Pink Diggly Diggly and Hollywood, We Have a Problem.
Keeping busy over the years, Pauly recently headlined the Montreal Comedy Festival and has completed a myriad of movie and television projects. Last year, he was seen as comedy legend Lenny Bruce in the television movie "Hefner: Unauthorized." His other television credits include "Red Letters" for HBO and "The Princess and the Barrio Boys" for Showtime. He also made the unpredictable documentary Spooge: Two Months in the Life of..., best described as Roger & Me meets Truth or Dare, and appeared in the spoof The Bogus Witch Project and in D.J. Pooh's The Wash, starring Dr. Dre and Snoop Dogg. In addition, Pauly Shore has used his versatile voice to great effect in such movies as Casper: A Spirited Beginning, A Goofy Movie and the upcoming An Extremely Goofy Movie.