Premiere Exclusive
Gov Mike Huckabee
Host of TV's "Huckabee", NYT's Bestselling Author and Leading Commentator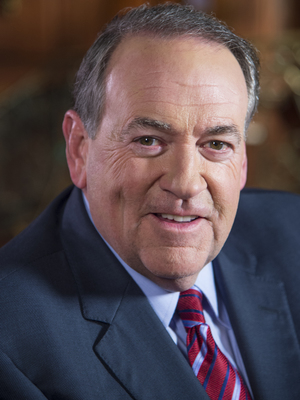 Premiere Exclusive
Gov Mike Huckabee
Host of TV's "Huckabee", NYT's Bestselling Author and Leading Commentator
About Gov Mike Huckabee
Mike Huckabee is the host of the TV show "Huckabee" on TBN each weekend and is a Fox News contributor, NY Times best selling author of 12 books, and a frequent speaker for corporate, civic, and non-profit groups all over the world.
He was the 44th Governor of Arkansas from 1996 until 2007, becoming one of the longest serving Governors in his state's history. He left a legacy of tax cuts, job creation, the reconstruction of his state's road system, K-16 education reform, and a nationally heralded ...
Gov Mike Huckabee Speech Topics View All
The Trump Triumph: Why He Won and Why the Media and the Politicos Never Saw it Coming
The phenomenon of Donald Trump's historic disruption of the American political system was a total surprise to some - but not all! Governor Mike Huckabee wrote about the movement and ideas in his NY Times ...
Weapons of Mass Instruction
Music and the Arts are a must for our educational system. In this keynote, Gov. Huckabee explains the role that music education played in developing his political and media career.
The Pursuit of the Presidency and the Perfectly Insane American Process
Gov. Huckabee presents insights and experiences from the American political system and all the the details and struggles it takes to run for office.
Governor Huckabee was a hit. What a wonderful person! Everyone loved him. In fact, he got a standing ovation as soon as he entered the stage.
Mary Lou Taylor - Director, Meetings and Conventions
The Gov was absolutely outstanding. The event could not have gone better, and I could not be happier with the event. Thank you, Gov Huckabee and Premiere Speakers Bureau!
David Lee - Mach 1 Financial Group
We had a fabulous event! Gov. Huckabee was an outstanding speaker but more than that he is a wonderful person. He was very warm, genuine, connected with our staff, sponsors as well as the audience. We had a truly great experience with Gov. Huckabee.
Robynn Price-Zehnder - National Distribution Contracting, Inc
Governor Huckabee hit it out of the park! He was very easy to work with and delivered a pitch-perfect speech that was equally inspiring and entertaining.
Lori Hutto - Front Line Strategies
Mike Huckabee charmed and inspired our national group of Health care executives with his unique blend of knowledge and humor. Because of the overwhelming positive response with this group we have now booked him to address a national group of retailers.
Michael P. Owens - CraigMichaels Inc.
No matter what your political views, Governor Huckabee is a great role model and advocate for health!
GlaxoSmithKline
6 speaker reviews for Gov Mike Huckabee View All
Gov Mike Huckabee Blog View All
Long-term exclusive Premiere speaker Governor Mike Huckabee signed off his talk show 'Huckabee' on a divergent, yet heartfelt note this past Saturday ...
Written by Bethany Blankley This week, Gov. Mike Huckabee, along with David Lane of the American Renewal Project, hosted a tour with roughly 100 ...
Written by Don Brunell Over the Labor Day weekend, former Arkansas Gov. Mike Huckabee gave a compelling commentary on the need for employers and employees to set aside their differences and ...