Brokering baseball cards: A Q & A with ACE alum Michael Osacky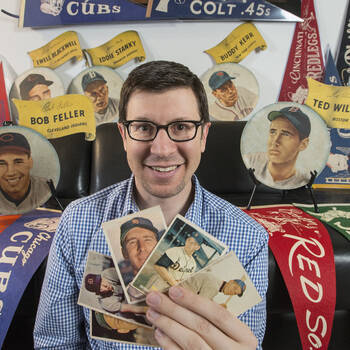 September 29, 2016
World-class Sports Memorabilia Appraiser
Michael Osacky is a 2002 graduate of the College of Agricultural, Consumer and Environmental Sciences. With a degree in commodity, food, and textile marketing, what led him to become a certified vintage sports memorabilia appraiser and writer?
On Wednesday, Oct. 5 from 6:30 to 8 p.m., Osacky will be at the Champaign Public Libraryto discuss the vintage sports memorabilia industry. Afterward, he will provide a free verbal appraisal to all attendees who bring in their vintage sports collectibles.
Here is a short interview with Osacky about how he got into the biz, tips on selling and buying, and some of his more memorable appraisals.
How did you get into the business of being a certified vintage sports memorabilia appraiser?
MO: Growing up in Chicago's northern suburb Buffalo Grove, I liked riding my bike to the local greeting card shop or grocery store to buy the current sports cards. Then in 1997, when I was a senior in high school, my grandfather bought me a shoebox full of old baseball cards for my birthday. These cards weren't like anything I'd ever seen. They were from the 1950s and 1960s. It made me want to try to find more of these kinds of cards and learn about the history associated with these professional ballplayers.
What were your career goals when you were majoring in commodity, food, and textile marketing at the University of Illinois?
MO: My plans were to be a commodities trader on the floor of the Chicago Mercantile Exchange in Chicago. I pursued that career for a while immediately after graduation.
Are there any aspects of commodity trading that you use in appraising sports items?
MO: The commodities degree taught me the art of negotiation. When trading futures and options, you have to understand if something is a buy or a sale at a moment's notice and voice your opinion.
The same is true when buying baseball card and memorabilia collections. I bring cash with me and I only have that moment to make a deal. I am not returning so I have to offer the highest possible price that's fair for both parties.
A lot of people probably come to you with a signed ball or baseball card that they think is worth a fortune. How do you break it to them that it's a forgery or worthless?
MO: I am in this situation all the time. Some of the well-known baseball cards such as the T206 Honus Wagner are frequently reprinted. I am blunt and honest. Sometimes the truth hurts but I am always 100 percent honest.
Do you appraise only baseball-related items or are you also knowledgeable about other sports memorabilia?
MO: I appraise all sports from 1870 to 1970—baseball, football, basketball, hockey, horse racing, you name it. And I appraise all items—cards, programs, autographs, advertising pieces, whatever.
Describe one of your more complicated or interesting appraisals. How do you determine the value and if there is a market for the item?
MO: I appraised a world championship Chicago Bulls basketball collection. Being a Chicagoan and a Chicago Bulls fan, it was such an honor to be called in by the player and his family. The family didn't want to sell. They needed to know how much the collection was worth for insurance purposes. Insurance companies won't sell a policy without getting a third party like myself to appraise the item or collection. The appraisal was complicated because there was a lot—Michael Jordan autographs, team-signed basketballs, championship rings, pendants, jerseys, and a lot more.
What's the most valuable item you've ever appraised?
MO: I have appraised six-figure collections. However, the single most valuable item I have appraised is a 1915 Cracker Jack Baseball Card Complete Set of 176 cards. Cracker Jack distributed cards inside each package. The cards are vibrant as they were 100 years ago. The set was appraised at $60,000. It had been passed down through the family. The couple thought the cards were worth about $2,000. They were in total shock and disbelief when they heard $60,000.
What are some of the goofier items people have brought to you for appraisal?
MO: I've been asked to appraise a plastic cup from a Cubs game. On one occasion a few years ago I was on WGN radio. Someone called in and asked what a jock strap, worn in a game by former Major League Baseball player Joe Garagiola, was worth. The host of the radio show put everybody on mute while we laughed uncontrollably. The host finally just said, "Ok next caller."
What about those baseball cards that came inside a package of gum—are those worth anything at all?
MO: Most people are familiar with getting cards from the five and dime store in the 50s and 60s. However, the idea of pairing bubble gum and baseball cards actually originated in 1933 with the Goudey Gum Company. The cards from the 50s and 60s are worth money depending upon the condition and the player.
What sorts of things should people look for in our attics and basements?
MO: The older the better. Anything pre-1970.
What's your advice for a novice collector?
MO: Buy what you know and love. Don't buy for investment purposes. If you like old programs, buy old programs and learn everything you can about them.
What about selling/buying from online auction websites? What should buyers watch out for?
MO: There are so many reprints and forgeries online. Additionally, the FBI has arrested several auction house owners over the years. As of this interview, they are all in prison.
In addition to professional sports memorabilia, you also appraise college sports stuff. Are there any Illinois items that have made it to collector status—or you predict will?
MO: It's possible. Maybe a game worn Red Grange helmet or jersey.
---
Source: ACES
Want to bring Michael to your next event? Let us know here. We'd love to help make it happen!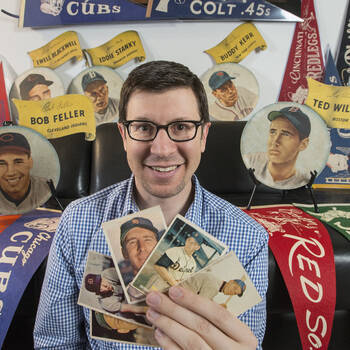 Want Michael Osacky for your next event?
Find out more information, including fees and availability.
Find Out More
Keep Reading