Kyle Schwartz
Founder of "I Wish My Teacher Knew" Project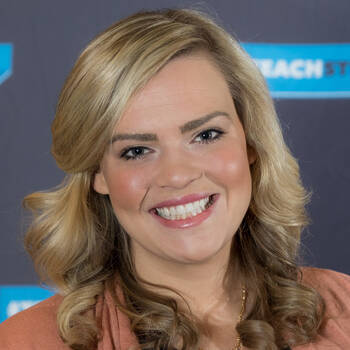 Kyle Schwartz
Founder of "I Wish My Teacher Knew" Project
Travels From
Denver, Colorado
About Kyle Schwartz
Kyle Schwartz is a third grade teacher at Doull Elementary in Denver, Colorado. Doull Elementary has a strong community and the school faces challenges. At Doull, about 90% of students live below or very near to the poverty line and about half are learning English at school.
Ensuring that all children receive a quality education has been the driving force in Kyle Schwartz's career. She has worked with education focused organizations such as City Year, the Denver Teacher Residency, America ...
Kyle ignited the spark that would fuel the educators in the room as they thought about how they too could affect change. Kyle speaks vividly, candidly, and through the power of her students' stories.
Stephenie Johnson, Associate Campaign Director and K-12 Education Policy Analyst - Center for American Progress TeachStrong Campaign
As a non-profit that gives school supplies to teachers and students, we knew Kyle would be the perfect keynote speaker at our Gala. Her touching and thoughtful presentation highlighted our mission perfectly and her warm and engaging personality endeared her to all our guests. You won't find a more inspiring educator!
Jeanne Mock, Director of Special Projects - Kids In Need Foundation
Kyle is not only a teacher-advocate inside the classroom. She brings her advocacy to the local political landscape, as well; ensuring equitable resources for students across the district. Kyle acted as a co-lead for the 2016 Bond and Mill Levy Summit with a cohort of educators working to educate and engage community members on the upcoming ballot measure. She facilitated small group conversation and power mapping activities with a truly enthusiastic spirit!
Angel Cobian, Manager of Organizing Strategy - Leadership for Educational Equity
Kyle was personable, inspirational, and articulate during her keynote address. Her ability to connect with a large, diverse audience was impressive. It was the perfect message to reignite staff for the school year.
Elise Cohen, Instructional Coach and HeadStart Pre-Service Planning Committee Member - BakerRipley / Neighborhood Centers Inc.
"Kyle Schwartz has turned a viral classroom exercise into a powerful argument for what American students need: to be asked, heard, and finally answered. Packed with sharp insights and vivid classroom details, I Wish My Teacher Knew is a must-read for anyone who believes in the power of education.
Elizabeth Green, co-founder, CEO, and editor-in-chief - Chalkbeat
Kyle Schwartz truly understands that relationships matter most in the classroom, and she shares tools and stories that every educator will find both powerful and engaging. It is a 'back-to-school' must read!
Tony Wagner, Author - The Global Achievement Gap
7 speaker reviews for Kyle Schwartz View All