Devon Harris
Member of the First Jamaican Bobsled Team; Inspired the Disney movie "Cool Runnings"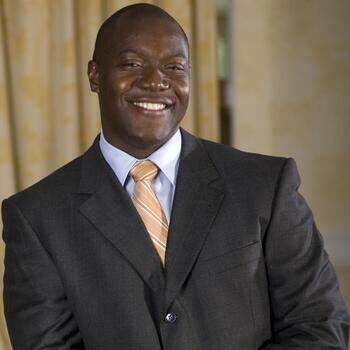 Devon Harris Bio
Born on Christmas Day, 1964, the world should never have heard of Devon Harris. He was raised in one of the most violent slums of Kingston, Jamaica yet he graduated from the prestigious Royal Military Academy Sandhurst in England and served as an officer in the Jamaica Defence Force. He started off as a barefoot boy trying to win a track race and became a member of his country's first Olympic bobsled team. Circumstances and others constantly told him it was impossible but at every step of the way he, kept on pushing and found a way to make it possible.
At the heart of Devon's message are the lessons he has learned of the power of persistence over all sorts of obstacles in order to live one's best life. His mission is to bring this message of how everyone can keep on pushing and working for their dreams every day of their professional as well as personal lives.
Encouraged by his commanding officer, Devon tried out for and was selected to the first Jamaican bobsled team which competed in the 1988 Olympic Games in Calgary, Canada. Their exploits inspired the Disney blockbuster movie Cool Runnings. Devon also competed in and was captain of the 1992 Winter Olympic Games in Albertville, France and the 1998 Games in Nagano, Japan.
The Keep On Pushing Foundation which he founded in 2006 aims to support and enhance the education of kids in disadvantaged communities by providing practical solutions to the challenges that are preventing them from getting educated. Devon's work has made a significant difference in the lives of the students attending his old elementary school as well as other schools in the communities surrounding his old neighborhood.
As an ex-serviceman, Devon understands the commitment, sense of duty and sacrifices made by those who volunteer to serve. As a private citizen he is cognizant of the fact that the freedoms he enjoys are paid for by the courage and sacrifice of these men and women. As a result he has also devoted time to visit the troops serving in the Persian Gulf and around the United States.
Devon also works with Right to Play as an athlete ambassador, supporting Right to Play's efforts in using sports and play in refugee camps around the world to enhance child development and build community capacity.
He is the author of the motivational children's book, Yes, I Can! and the semi-auto-biographical motivational book Keep On Pushing: Hot Lesson From Cool Runnings.