Premiere Exclusive
Father Jonathan Morris
Fox News Analyst, Theologian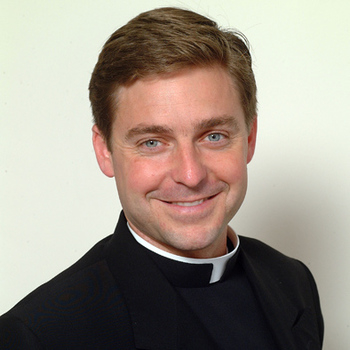 Father Jonathan Morris Bio
As a news contributor for the Fox News Channel, Fox Business Channel, and the Wall Street Journal, Father Jonathan Morris offers coverage of the ethical, social, and religious news stories of the day. As a Roman Catholic priest with pastoral experience developed from serving around the world, he brings not only a journalist's eye to issues, but also a pastor's heart in relating how that issue will affect the audience.
After studying Business Administration at Franciscan University in Steubenville, Ohio, Father Jonathan joined the seminary and attained separate degrees in classical humanities, philosophy, and theology. After his ordination in 2002, he served a number of roles, including theological advisor in the making of the feature film The Passion of the Christ. Father Jonathan graduated with high honors with a licentiate degree in moral theology (ethics) from Regina Apostolorum Pontifical University in Rome, Italy.
Father Jonathan was interviewed by numerous networks, including CNN, Sky News, and the BBC, during the illness and death of Pope John Paul II, in March and April of 2005. In May 2005, he signed on with Fox News Channel as a regular news analyst and contributor.
Since then, Father Jonathan has traveled around the world, including many troubled global regions, to cover often overlooked news events and issues. He has investigated human trafficking at the World Cup in Germany and the riots in Paris, France involving Muslim youth, as well as the murder of Christian publishers in Turkey. Father Jonathan has also reported on the state of the Christian church in Syria and Venezuela. In April 2008, he received wide acclaim for his reporting of Pope Benedict's historic U.S. visit. Father Jonathan has also attained exclusive interviews from a variety of individuals, including former First Lady Laura Bush and the Grand Imam of Paris, France, and also debated noted biologist Richard Dawkins for the BBC.
In 2008, Father Jonathan published the book The Promise: God's Purpose and Plan for When Life Hurts. His reason for writing the book was to address one of the most common and profound questions people ask: How can a loving and merciful God allow pain and suffering? Father Jonathan offers perspective on this question and others for those looking for hope and God's love, especially when both seem distant. His second book, also related to spirituality, is due to be released by HarperCollins in early 2011.
In addition to his journalistic work, Father Jonathan serves as parochial vicar of the historic Basilica of St. Patrick's Old Cathedral in the SoHo district of New York City.