Join The Secret Lies Within Book Launch Team
May 28, 2019
Founder of Auntie Anne's Pretzels
The time has finally arrived! After dreaming about this for years, working with my team, and collaborating with our publisher, my next book The Secret Lies Within: An Inside Out Look at Overcoming Trauma and Finding Purpose in the Pain is available for preorder!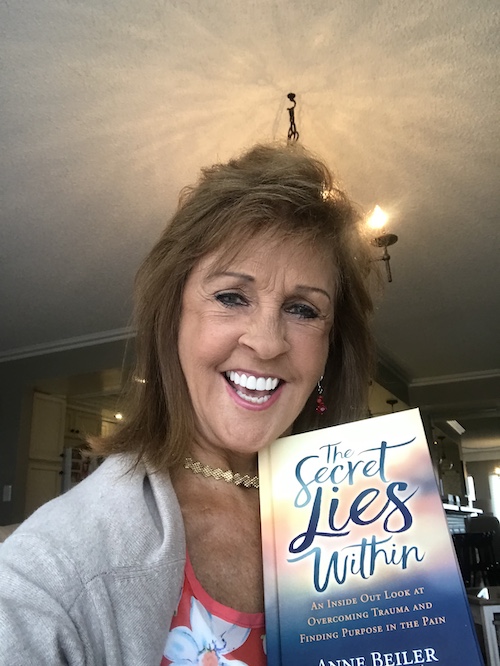 I'm grinning from ear to ear! When I opened the first box of books and held one in my hand, I couldn't contain my pure joy. The message of this book is so near and dear to my heart, and I cannot wait to get it out into the world.
The book officially comes out on Tuesday, September 10, 2019, and we want to have the best launch possible!
That's where you come in. We need your help!
We've decided to create a Launch Team of real readers who are willing to help spread the word on The Secret Lies Within.
WHAT IS A LAUNCH TEAM?
A launch team is a dedicated group of Auntie Anne Beiler volunteers that can help us announce the release of the book. This team will help spread the word through blogs or websites, social media, reviews on retailer sites, and of course, through word-of-mouth.
WHO CAN APPLY FOR THE LAUNCH TEAM?
Are you excited to read The Secret Lies Within and tell your community about it?
Do you enjoy social media, and know how to use it to promote something you care about?
Do you have an active blog or place of influence (think: community or church leaders, publication editor, small group/book group leader, podcaster, etc.)?
Are you willing to share about the book, leave a review online, and encourage others to do the same?
If YES to any of the above, then head over to our application and fill it out! We will cap it at 250 spots so be sure to get your application in early.
WHAT WOULD I BE REQUIRED TO DO?
We would ask you to do four things:
Read an early copy of the book.
Engage with your friends and followers online by posting about the book before, during and after launch week (9/10/2019).
In your place of influence (blog, podcast, ministry, website), we'd love for you to write/speak/talk about the book! We'll give you pics, links, and helpful content. If it's a podcast or publication with a certain level of readership, we can also arrange for an interview with Anne.
Post a review on Amazon or your favorite retailer's website.
WHAT'S IN IT FOR ME?
You will receive a free digital copy of the book, so you can read it and begin telling your friends about it. We'll provide you with helpful images, quote cards, and more to help spread the message. You will also be invited to our Private Facebook group with others from the launch team where we will announce updates, news, and share tips on getting the word out.
HOW DO I JOIN?
Click here to apply! We are looking for 250 people to be a part of this Launch Team. If chosen, you will receive an email from our team within the next three weeks.
Applications open…TODAY! When the 250 spots are gone, we'll close the application.
The post Join The Secret Lies Within Book Launch Team appeared first on Auntie Anne Beiler.
Want Auntie Anne Beiler for your next event?
Find out more information, including fees and availability.
Find Out More
Keep Reading