Olivia Culpo
Former Miss Universe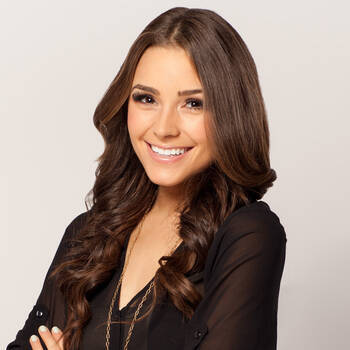 Olivia Culpo Bio
On June 3, 2012, Olivia Culpo was crowned Miss USA 2012 at the Planet Hollywood Resort & Casino in Las Vegas, Nevada. The 20-year-old cellist of Cranston, Rhode Island became the first titleholder from her state to capture the crown.
The middle child of five children, Olivia decided to compete for the title of Miss Rhode Island USA on a whim. With determination and a passion for performing on stage, Olivia captured her state title in a $20 "Rent The Runway" dress that was too short and had a tear in the back. Her road to the crown continued in Las Vegas where she wowed the judges in a purple Sherri Hill dress and a poised response to the twitter question regarding transgender contestants.
Both of Olivia's parents began their professional lives as musicians and raised her in a musically rich surrounding. She began studying the cello in the second grade and from there participated in the Rhode Island Philharmonic Youth Orchestra, RI Philharmonic Chamber Ensemble, Bay View Orchestra and Rhode Island All-State Orchestra. Olivia also won a seat in the Boston Symphony Hall, Boston; Carnegie Hall, New York City; and a tour of England in 2010. Until recently, Olivia was performing with the Boston Accompanietta.
Olivia, who has called herself a "nerd," graduated with high honors and a member of the National Honor Society in 2010 from St. Mary Academy Bay View. Throughout high school, Olivia's love for Italian language gave her the opportunity to take part in two foreign language programs in Milano, Italy. As a sophomore at Boston University, she has been placed on the Dean's List almost every semester. Olivia will place her education on hold while performing her duties as Miss USA for the next year.
An admirer of Audrey Hepburn, Olivia keeps a journal of the actress's quotes and even resembles the classical beauty. Shortly after being crowned, Olivia serenaded her press conference attendees while singing one of her favorite Audrey Hepburn songs, "Funny Face," from the 1957 film. The day after her win, she arrived in New York City where she will reside as Miss USA. During her reign, Olivia will serve as a spokesperson for breast and ovarian cancer and will work closely with organizations such as Susan G. Komen for the Cure and Gilda's Club. She will also work with the USO as part of the Miss Universe Organization's dedication to supporting our troops.