Priest Urges Crowd to "Learn to Love Each Other" to Heal Nation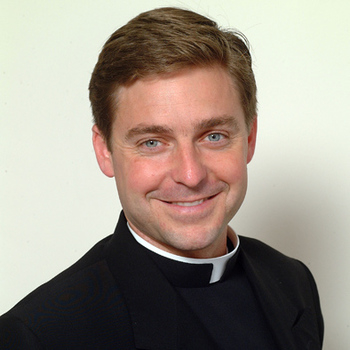 Fox News Analyst, Theologian
Written by Jeff Matthews
The cure for the partisan politics spilling over into all facets of American society, Father Jonathan Morris says, is "getting back to the basics."
To him, that means love.
"I think we're at a time right now as a nation where we're so divided politically," said Morris, a priest and well-known commentator on religious issues, during an appearance in Alexandria Wednesday. "Our only hope is for people of faith, believers, to learn to love each other."
Morris, who serves in the Archdiocese of New York, has become nationally know as a contributor to Fox News and the Wall Street Journal, as well as for his books and Internet show.
He spoke to more than 200 people at Our Lady of Prompt Succor Church, urging them to "lead with mercy" in their relationships with others.
"That means learning to love in a way that others experience as love," he said. "It means loving people who are not easy to love. It means learning to live with major disagreements. in a way that's civil, that's Christian. ... Our country will only grow if people of faith stop identifying themselves primarily as being from this camp or that camp. If we can learn to love as Jesus loves, this divisiveness will come and go."
Among the issues Morris has tackled as a media commentator is what he has called an "intolerance of any public expression of God or religion."
"There's a very strong and I think dangerous misunderstanding about the proper separation between church and state," he said. "That misunderstanding is people of faith are free to express their faith, as long as it's within the walls of their church. That's radically opposed to our Constitution and the founding documents laid out for us. They laid out for us freedom of religion, not freedom from religion. People of faith shouldn't be ashamed to express our faith. We need to defend one another when we see other people of faith speaking out."
Proceeds from the event Wednesday went to benefit uninsured patients at Christus Cabrini Hospice.
"The reason I'm here is I care deeply about respect for life," Morris said. "To me, that's not just about pro life, it's truly caring about the dignity of every living person. Christus Hospice Care is on the front lines of that battle. We're talking about taking care of people in their last days."

For information on how to book Father Jonathan Morris for your next event, visit PremiereSpeakers.com/father_jonathan_morris.
Source: The Town Talk