David Aikman
Senior Correspondent for Time Magazine & Author of "Jesus in Beijing"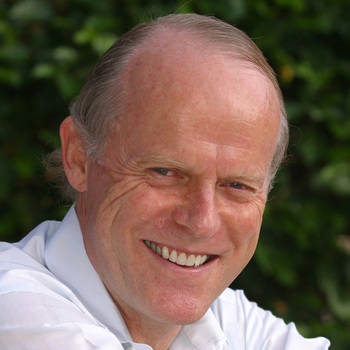 David Aikman Bio
David Aikman is an award-winning print and broadcast journalist, an author, and a foreign policy consultant based in the Washington, D.C.-area. His wide-ranging professional achievements include a 23-year career at TIME Magazine with reporting spanning the globe of nearly all the major historical events of the time. More recently, he authored two ground-breaking books, A MAN OF FAITH: THE SPIRITUAL JOURNEY OF GEORGE W. BUSH, published in April 2004, and JESUS IN BEIJING: HOW CHRISTIANITY IS TRANSFORMING CHINA AND CHANGING THE WORLD BALANCE OF POWER, published in October 2003. Aikman's 1999 two-hour documentary on the Middle East peace process, Vanishing Peace: The Aftermath of Oslo was shown worldwide on the BBC. David Aikman is also a regular radio and TV commentator on international affairs and a popular speaker, panelist, moderator and lecturer at events all over the world.
An expert on China, Russia and the Middle East, Aikman, as a Senior Correspondent and foreign correspondent for TIME Magazine, reported from five continents and more than 55 countries and wrote three consecutive Man of the Year cover stories. He has interviewed many major world figures, from Mother Teresa to Manuel Noriega, from Alexander Solzhenitsyn to Pham Van Dong, from Boris Yeltsin to Billy Graham. David Aikman speaks six languages, including Russian, Chinese, French and German.
After leaving TIME in July 1994, Aikman joined the Washington-based Ethics and Public Policy Center as a Senior Fellow from 1998 to 2002. Before and since those four years, he has worked as a freelance writer, author and commentator. He also serves as a Senior Fellow for The Trinity Forum, a leadership academy that seeks to transform society by helping leaders examine issues in their personal and public lives in the context of faith.
David Aikman has written extensively on religious persecution based on first-hand, news-breaking reporting in countries including Russia, China, Egypt, and Pakistan. His expertise in first-hand reporting on religious freedom in Asia and the Middle East goes back 25 years, with reports appearing in Foreign Affairs, The American Spectator, The Weekly Standard, Citizen Magazine as well as several issues of TIME. His September 1997 cover story "The Laogai Archipelago" in The Weekly Standard was the most detailed journalistic account to date of China's prison and labor camp system. In April and August 1998, and in September 1999, Aikman visited Russia and China, respectively, to investigate the status of religious freedom in both those countries. David Aikman returned to China for three months in the summer of 2002 and traveled extensively throughout the country, interviewing Chinese Christians from all walks of life and backgrounds for JESUS IN BEIJING: HOW CHRISTIANITY IS TRANSFORMING CHINA AND CHANGING THE WORLD BALANCE OF POWER, the most comprehensive and up-to-date book-length account of the situation of Christianity in China today and the historical influences on its development. While at the Ethics and Public Policy Center, he spent part of his time as editor-at-large of Newsroom, an Internet-based news organization reporting on the religious aspect of news events around the world.
David Aikman is the author of six books on a wide range of topics. A six-part documentary of the most recent, A MAN OF FAITH: THE SPIRITUAL JOURNEY OF GEORGE W. BUSH (W Group, 2004), is due to be broadcast on PBS stations. Plans are underway to translate JESUS IN BEIJING: HOW CHRISTIANITY IS TRANSFORMING CHINA AND CHANGING THE WORLD BALANCE OF POWER (Regnery, 2003) into several languages, including Chinese, for publication in Europe and Asia. GREAT SOULS: SIX WHO CHANGED A CENTURY (Lexington Books, 2002) is a study of six morally exemplary figures of the 20th century: Mother Teresa, Pope John Paul II, Aleksandr Solzhenitsyn, Billy Graham, Nelson Mandela, and Elie Wiesel.
Aikman's extensive radio experience and television experience include frequent appearances, beginning in 1986, on Voice of America's weekly news discussion program, "Issues in the News," of which he is now often the moderator. He has appeared as a guest multiple times on C-Span and CNN, as well as on NBC's "Today Show," on ABC's "Nightline," and on local television and radio stations around the country in connection with breaking world events, especially in the Middle East or in Asia, religious persecution around the world, and his books and speaking engagements. He is a commentator on the editorial board of Salem Communications, one of the largest radio networks in the United States. David Aikman's also has been a commentator on various international topics for ABC's "Nightline," Fox News, CNN, and the BBC.
Aikman's wide-ranging speaking engagements have included appearances to audiences at Harvard University and other colleges and universities across the country, to the Council on Foreign Relations and other think tanks, and to church groups and religious conferences. He was a featured speaker at the annual board meeting of the National Religious Broadcasters in 2004, the plenary speaker at the Senate Republican Conference annual retreat in 2002, and has been a witness at Congressional hearings on China and on Christian persecution, most recently to the Congressional-Executive Commission on China in July 2003.
Last but certainly not least, David Aikman is the founder and chairman of Gegrapha, a global fellowship of Christian journalists.